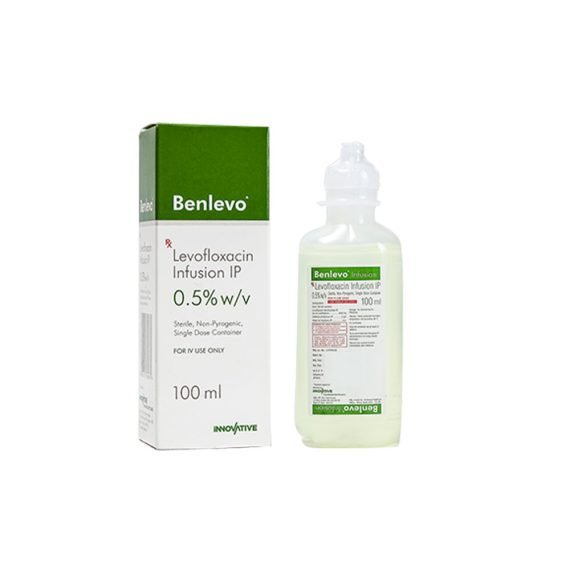 Benlevo – Levofloxacin Injection
Innovative Pharmaceuticals
Description
LEVOFLOXACIN (BENLEVO) INJECTION – TREATMENT OF BACTERIAL INFECTIONS
Benlevo 0.5% Injection is an anti-microbial used to treat bacterial infections in adults and children over the age of six months. It is also used to treat illnesses of the urinary tract, nose, throat, skin, and lungs. (pneumonia). It cures the ailment by preventing the growth of pathogenic germs.
How Benlevo 0.5% Injection is to be given?
Benlevo 0.5% Injection should be used in the amount and duration prescribed by your doctor. It might be administered with or without food, ideally at a predetermined time. Try not to skip any meals and complete the entire course of treatment regardless of how much better you feel. Avoid taking a double portion to make up for a lost part. Accept the following section in its entirety.
Common Side Effects of This Medicine:-
This medication may cause cerebral pain, discombobulation, nausea, and clogging. This is normally quick and resolves everything on its own; but, if it isn't too much difficulty, counsel your PCP if it irritates you or endures a longer term. Loose bowels may also occur as a result but should subside once your treatment is over. Consult your PCP if the bleeding does not stop or if you find blood in your feces.
If you are allergic to any of the ingredients in this medication, you should not use it.
How Does This Medicine Work?
This medication is an antibiotic that is used to treat a variety of bacterial illnesses. In adults and children, it comprises infections of the ear, nose, throat, lungs, urinary system, skin, and soft tissues. It kills and prevents the growth of the bacteria that causes the infection.