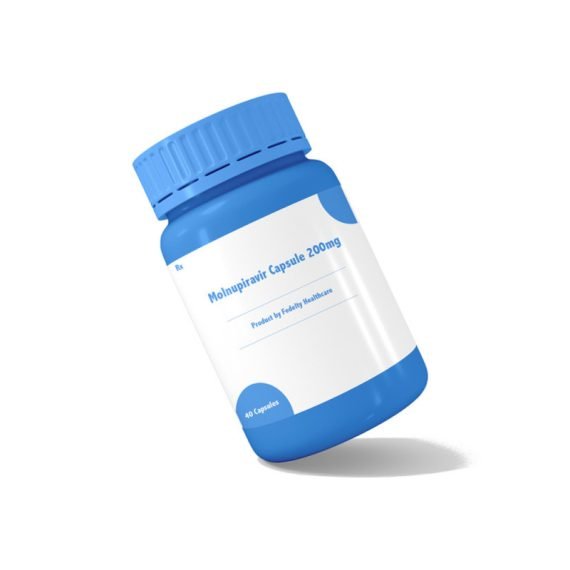 Description
Molnupiravir – Treatment For COVID-19
Molnupiravir belongs to the mutagenic Ribonucleosides class of antivirals. These alter the viral genetic material and cause mistakes, preventing viral genome replication and transcription.
Molnupiravir is transformed to Molnupiravir triphosphate inside the host cell. When the virus tries to replicate, Molnupiravir triphosphate replaces the nucleoside cytidine in the viral RNA, resulting in a mutation.
Fedelty Health Care is a Molnupiravir Contract Manufacturer, Pharmaceutical Cargo Bulk Exporter & Hospital Supply.
What is the medical use of Molnupiravir?
Molnupiravir is used to treat mild-to-moderate coronavirus illness (COVID-19) in individuals who have tested positive for SARS-CoV-2 and are at a high risk of developing severe COVID-19.
What are the conditions on which you should not consume this medicine?
It is not advised to use during pregnancy. There are no human data on the risk of poor maternal or fetal outcomes when used during pregnancy. The medicine may damage a fetus, according to animal studies. In rats, embryofetal mortality and teratogenicity were reported throughout organogenesis, as well as lower fetal weight. Due to the risk of adverse responses in the newborn, breastfeeding is not suggested during therapy. There is no information on whether the medication or its metabolites are found in human milk. It's unclear whether it has an impact on infant or milk production. The use of this medication in individuals under the age of 18 can have an impact on bone and cartilage development. After repeated administration, bone and cartilage damage was detected in rats.
Fedelty Health Care is a certified Molnupiravir Bulk Pharma Exporter, Cargo Bulk Supplier, and pharmaceutical wholesaler in India. 
What are the adverse effects of using this medicine?
All the mild or moderate adverse events recorded are-
Diarrhea
nausea
dizziness
How does the Molnupiravir work?
Molnupiravir prevents viral reproduction by causing extensive mutations in the RNA-directed RNA polymerase that replicates viral RNA. It is converted into -D-N4-Hydroxycytidine 5′-triphosphate, also known as EIDD-1931 5′-triphosphate or NHC-TP, a Ribonucleoside analog that mimics cytidine. Instead of using actual cytidine, the virus's enzyme integrates NHC-TP into newly produced RNA during replication.
What are the benefits of Molnupiravir?
The key benefits of this medicine are-
It reduces the number of days you're infected drastically.
It prevents the infection from spreading and creating COVID-19 complications.
It slows the spread of the Coronavirus in the community by preventing it from spreading.
Fedelty Health Care is a Molnupiravir bulk pharma exporter (Molnupiravir Exporter) and pharmaceutical third-party manufacturer operating businesses in Venezuela, Saudi Arabia, Cambodia, Oman, Brazil, Lebanon, Chile, Peru, Cuba, and Fiji. Other services they provide are hospital supply, government supply, named patient supply, cold chain supply, and drop shipping.