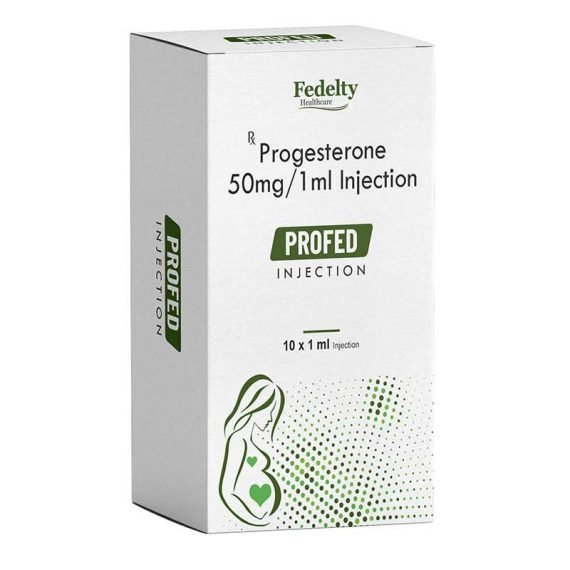 Profed – Progesterone 50mg Injection
Description
Description:
Fedelty Health Care operates companies in Venezuela, Saudi Arabia, Cambodia, Oman, Brazil, Lebanon, Chile, Peru, Cuba, and Fiji as Profed Injection third-party manufacturer, online pharmacy dropshipping, major pharma exporter, and pharmaceutical contract manufacturer. Hospital supply, government supply, named patient supply, cold chain supply, and drop shipment are some of the other services they offer.
Profed Injection contains Progesterone is used as a part of hormone replacement therapy in women who have passed menopause (the change of life) and have not had a hysterectomy (surgery to remove the uterus). Hormone replacement therapy usually includes estrogen, which is used to treat symptoms of menopause and reduce the risk of developing certain diseases. However, estrogen can also cause abnormal thickening of the lining of the uterus and increase the risk of developing uterine cancer.
Progesterone helps to prevent this thickening and decreases the risk of developing uterine cancer. Progesterone is also used to bring on menstruation (period) in women of childbearing age who have had normal periods and then stopped menstruating. Progesterone is in a class of medications called progestins (female hormones). It works as part of hormone replacement therapy by decreasing the amount of estrogen in the uterus. It works to bring on menstruation by replacing the natural progesterone that some women are missing.
Side Effects of Profed Capsule:
Common side effects of Profed: –
headache.
breast tenderness or pain.
upset stomach.
vomiting.
diarrhea.
constipation.
tiredness.
muscle, joint, or bone pain.
mood swings.
irritability.
excessive worrying.
runny nose.
sneezing.
cough.
vaginal discharge.
problems urinating.
How Profed Capsule works:
Progesterone is a hormone released by the ovaries. Changing progesterone levels can contribute to abnormal menstrual periods and menopausal symptoms. Progesterone is also necessary for implantation of the fertilized egg in the uterus and for maintaining pregnancy.
What if you forget to take Profed?
Take the missed dose as soon as you remember it. However, if it is almost time for the next dose, skip the missed dose and continue your regular dosing schedule. Do not take a double dose to make up for a missed one.