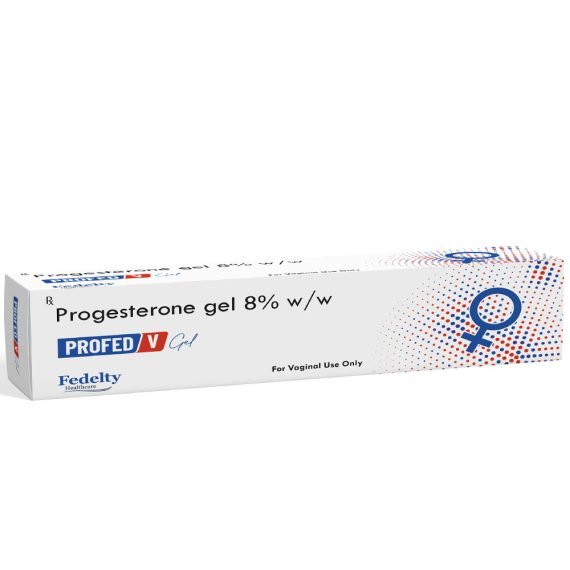 Profed V – Progesterone 8% Gel
Description
Description:
Fedelty Health Care operates companies in Venezuela, Saudi Arabia, Cambodia, Oman, Brazil, Lebanon, Chile, Peru, Cuba, and Fiji as Profed V Gel third-party manufacturer, online pharmacy dropshipping, major pharma exporter, and pharmaceutical contract manufacturer. Hospital supply, government supply, named patient supply, cold chain supply, and drop shipment are some of the other services they offer.
Profed V Gel is used to restore menstrual cycles in women whose periods have stopped. It is a natural female hormone important for regulating ovulation (release of an egg from a woman's ovary) and menstruation. It is used in the treatment of infertility to help you get pregnant.
Profed V Gel contains progesterone, a female hormone that regulates ovulation and menstruation in women. It induces secretory changes in the endometrium lining of the uterus, relaxes the uterus, blocks the maturation and release of follicles and maintains pregnancy.
It is adviced to use Profed V Gel as your doctor has advised. Do not use more or less than you have been advised and do not use it for longer than recommended. You may be asked to continue using this medicine for a period after it is confirmed that you are pregnant.
Let your doctor know your medical history to be safe. let your doctor know about all other medicines which may affect, or be affected by, this medicine. You will probably have several tests both before and during treatment to check your womb. In general, it is advisable not to use any other vaginal products or cream while using this medicine.
Uses of Profed V Gel:
Hormone replacement therapy.
Treatment of Female infertility
Benefits of Profed V Gel:
In Hormone replacement therapy
Hormone placement therapy (HRT) is a treatment to relieve symptoms of menopause such as hot flushes, night sweats, mood swings, vaginal dryness, and reduced sex drive. Since menopause can last for several years, this treatment can make a big improvement to your daily life and mood. Progesterone is one of two important hormones (the other being is estrogen) used in this treatment. However, it may not treat all your symptoms, consult with your doctor. You should use this medicine as it is prescribed, and for as long as it is prescribed by your doctor.
In Treatment of Female infertility
Profed V Gel contains progesterone, a female hormone that is important in the regulation of ovulation and menstruation. It is used to cause menstrual periods in women who have not reached menopause but are not having periods due to a lack of natural progesterone in the body. This medicine helps to prepare the uterus for pregnancy by causing the uterus lining (endometrium) to thicken. This increases the chance of a successful pregnancy. You should use the medicine as prescribed for it to be effective. You may be asked to continue with this treatment for a period after becoming pregnant.
Side Effects of Profed V Gel:
Most side effects do not require any medical attention and disappear as your body adjusts to the medicine. Consult your doctor if they persist or if you're worried about them.
Common side effects of Profed: –
Abdominal pain.
Headache.
Constipation.
Nausea.
Breast pain/enlargement.
How to use Profed V Gel:
This medicine is for external use only. Use it in the dose and duration as advised by your doctor. Check the label for directions before use. Clean and dry the affected area and apply the gel. Wash your hands after applying.
How Profed V Gel works:
Profed V Gel is a progesterone (female hormone). It helps to establish and maintain pregnancy. It also prevents the increase in thickness of the endometrium (lining of the uterus) caused by estrogen.
Safety Advice:
Pregnancy
Profed V Gel is safe to use during pregnancy. Most studies have shown low or no risk to the developing baby.
Breast feeding
Profed V Gel is safe to use during breastfeeding. Human studies suggest that the drug does not pass into the breastmilk in a significant amount and is not harmful to the baby.