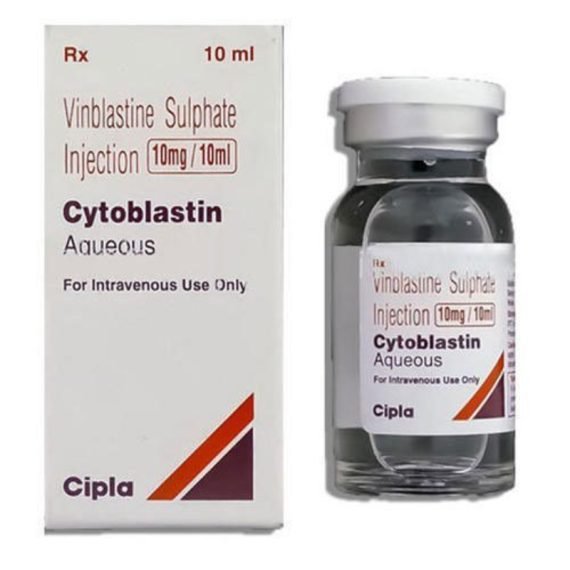 Cytoblastin – Vinblastine 10mg Injection
Description
VINBLASTINE (CYTOBLASTIN) INJECTION – TREATMENT FOR MULTIPLE CANCER
Vinblastine or Cytoblastin 10mg Injection is an anti-cancer medication used in the treatment of breast cancer, kidney cancer, Hodgkin's disease, and Non-Hodgkin's lymphoma.
Non-lymphoma, Hodgkin's commonly known as mantle-cell lymphoma, is a malignancy of the white blood cells in our bodies. White blood cells are cells that aid in the fight against infection. Cytoblastin 10mg Injections help to limit cancer development and spread by
blocking the action of other chemicals needed for cancer to grow and spread. To avoid illness, avoid crowds and wash your hands frequently. Unless your doctor tells you otherwise, drink plenty of fluids.
Cytoblastin 10mg injection Under the supervision of a doctor, an injection is delivered into a vein. Your doctor will determine the appropriate dosage and frequency of administration. This will vary depending on your condition and may change over time. You should take it exactly as prescribed by your doctor. It can have major negative effects if taken incorrectly or in excess. It may take a few weeks or months for you to notice or feel the benefits, but do not stop taking it unless your doctor says so.
Fedelty Health Care is a Vinblastine wholesaler, Pharmaceutical Cargo Bulk Exporter & Hospital Supply.
USES OF VINBLASTINE (CYTOBLASTIN) 10MG INJECTION
Kidney cancer
Breast cancer
Hodgkin's disease
WORKS OF VINBLASTINE (CYTOBLASTIN) 10MG INJECTION 
Cytoblastin 10mg Injection prevents cancer cells from replicating genetic material (DNA). As a result, cancer cell development and multiplication are halted.
Fedelty Health Care is India's certified Vinblastine Bulk Pharma Exporter, Cargo Bulk Supplier, and pharmaceutical wholesaler.
SIDE EFFECTS OF VINBLASTINE (CYTOBLASTIN) 10MG INJECTION
The majority of side effects are minor and will go away as your body adjusts to the medication. If they don't go away or you're concerned about them, see your doctor.
Vomiting
Diarrhea
Decreased appetite
Nausea
WARNING & PRECAUTIONS
Vinblastine or Cytoblastin 10mg Injection is a drug that is used to treat a variety of ailments. Injections should not be used during pregnancy because there is clear evidence that they pose a risk to the unborn child. However, if the advantages outweigh the hazards, the doctor may prescribe it in life-threatening conditions. Please get advice from a physician
It is unknown whether drinking alcohol while taking Vinblastine or Cytoblastin 10mg Injection is safe. Please seek medical advice.
Fedelty Health Care is a Vinblastine bulk pharma exporter (Cytoblastin Exporter) and pharmaceutical third-party manufacturer operating businesses in Venezuela, Saudi Arabia, Cambodia, Oman, Brazil, Lebanon, Chile, Peru, Cuba, and Fiji. Hospital supply.