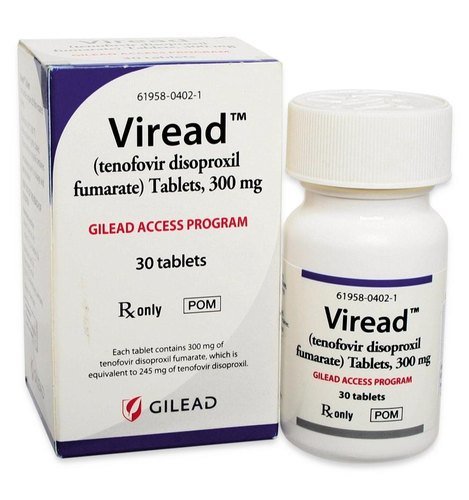 Viread – Tenofovir 300mg Tablet
Description
Description:
Fedelty Health Care operates companies in Venezuela, Saudi Arabia, Cambodia, Oman, Brazil, Lebanon, Chile, Peru, Cuba, and Fiji as Viread 300mg Tablet third-party manufacturer, major pharma exporter, and pharmaceutical contract manufacturer. Hospital supply, government supply, named patient supply, cold chain supply, and drop shipment are some of the other services they offer.
Viread 300mg Tablet is used to treat HIV infection and chronic hepatitis B virus (HBV) infection in combination with other anti-HIV medicines. It prevents the multiplication of viruses in human cells. This stops the virus from producing new viruses and clears up your infection.
This tablet contains tenofovir disoproxil fumarate which is an antiretroviral or antiviral medicine. It is a nucleotide reverse transcriptase inhibitor, generally known as an NRTI and works by interfering with the normal working of enzymes (in HIV reverse transcriptase; in hepatitis B DNA polymerase) that are essential for the viruses to reproduce themselves. It is used with other antiviral medicines to treat Human Immunodeficiency Virus (HIV) in adults and children 2 years of age and older. HIV is the virus that causes the AIDS (Acquired Immune Deficiency Syndrome).
This tablet is not a cure for HIV/AIDS and only helps to decrease the amount of HIV in your body. This helps to lower your risk of getting HIV-related complications and improves your lifespan. It may also be used to prevent HIV infection in some people at high risk. This medicine is best taken with food. It is used in combination with other anti-HIV medicines. Taking these medicines regularly at the right time greatly increases their effectiveness and reduces the chances of HIV becoming resistant to them. It is important not to miss doses and to keep taking them until your doctor tells you it is safe to stop.
Uses of Vired Tablet:
Chronic hepatitis B virus (HBV) infection
Benefits of Vired Tablet:
In Chronic hepatitis B virus (HBV) infection
In patients with chronic hepatitis B virus (HBV) infection, Viread Tablet works by preventing the HBV virus from multiplying in the body. It helps control the infection and makes the immune system work better. This lowers the chances of getting complications and improves the quality of life. This medicine is always taken in combination with other antiretroviral medicines. It is not a cure and should neither be used to prevent HBV infection. You must take this medicine as prescribed, following the dosage recommended by your doctor. Taking all doses in the right amount at the right times greatly increases the effectiveness of the medicine.
Side Effect of Vired Tablet:
Most side effects do not require any medical attention and disappear as your body adjusts to the medicine. Consult your doctor if they persist or if you're worried about them.
Common side effects of Viread Tablet: –
Vomiting.
Nausea.
Flatulence.
Diarrhea.
Headache.
Rash.
Insomnia (difficulty in sleeping).
How to use Vired Tablet:
Take this medicine in the dose and duration as advised by your doctor. Swallow it as a whole. Do not chew, crush or break it. Viread 300mg Tablet is to be taken with food.
Safety Advice:
Alcohol
It is not known whether it is safe to consume alcohol with Viread 300mg Tablet. Please consult your doctor.
Pregnancy
Viread Tablet is generally considered safe to use during pregnancy. Animal studies have shown low or no adverse effects to the developing baby; however, there are limited human studies.
Breast feeding
According to expert studies this tablet is considered safe to use during breastfeeding. Limited human data suggests that the drug does not represent any significant risk to the baby.
Driving
After taking this tablet it may decrease alertness, affect your vision or make you feel sleepy and dizzy. Do not drive if these symptoms occur.
Kidney
Viread 300mg Tablet should be used with caution in patients with kidney disease. Dose adjustment of Viread 300mg Tablet may be needed. Please consult your doctor.
Liver
Viread 300mg Tablet is probably safe to use in patients with liver disease. Limited data available suggests that dose adjustment of Viread 300mg Tablet may not be needed in these patients. Please consult your doctor.
What if you forget to take Viread Tablet:
If you miss a dose of Viread 300mg Tablet, take it as soon as possible. However, if it is almost time for your next dose, skip the missed dose and go back to your regular schedule. Do not double the dose.