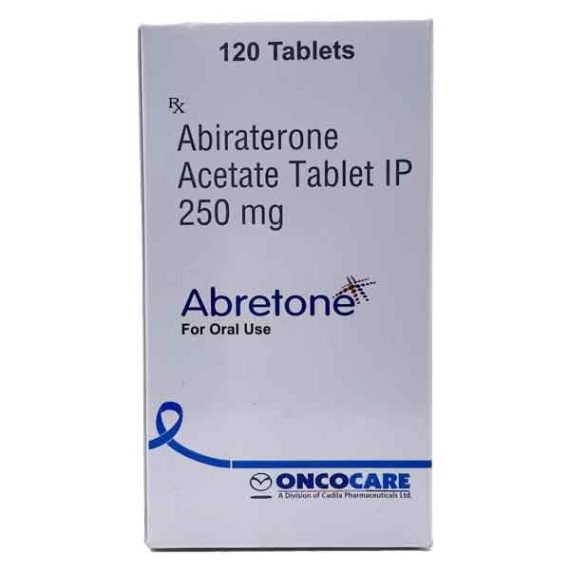 Abretone – Abiraterone Acetate 250mg Tablet
Cadila Healthcare Limited
Description
Description:
Fedelty Health Care operates companies in Venezuela, Saudi Arabia, Cambodia, Oman, Brazil, Lebanon, Chile, Peru, Cuba, and Fiji as Abretone Tablet third-party manufacturer, online pharmacy dropshipping, major pharma exporter, and pharmaceutical contract manufacturer. Hospital supply, government supply, named patient supply, cold chain supply, and drop shipment are some of the other services they offer.
Abretone Tablet is an anticancer drug used in men along with another drug called prednisone for the treatment of prostate cancer that has spread to other parts of the body. It is generally used in patients who are not responding to other treatment options.
Abretone Tablet contains Abiraterone Acetate which belongs to the group of medicines called antineoplastic agents. It is used to treat metastatic prostate cancer in adult men. It is generally used in combination with prednisone or prednisolone to lower the risk of high blood pressure, edema (fluid retention in your body) or decrease in blood potassium levels. It can also be used in combination with androgen deprivation therapy to lower testosterone levels in case of early-stage hormone sensitive prostate cancer.
This medicine must not be taken with food, because presence of meals can interfere with its effect. During this treatment, your doctor would periodically check your blood to look for any unwanted side effects on your liver.
USES OF ABRETONE
HOW ABRETONE WORKS
Abretone Tablet inhibits the production of androgens by selectively binding and inhibiting the activity of the enzyme CYP17A1, which in turn leads to decrease in serum levels of testosterone and slows down the growth of prostate cancer.
Side Effects of Abretone Tablet:
Comman side effects of Abretone: –
Hypersensitivity.
Increased blood pressure.
Irregular heartbeat.
Swelling of ankles or feet.
Dizziness.
Nausea and vomiting.
Shortness of breath.
Urinary tract infection.
Increased cholesterol and triglycerides.
Anemia.
Hypokalemia.