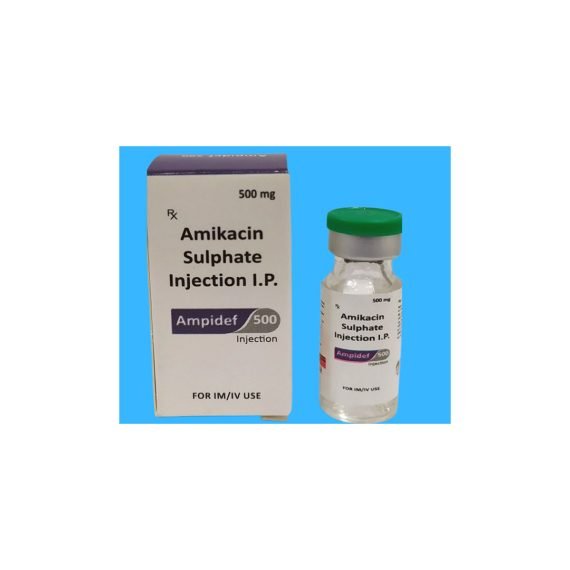 Ampidef – Amikacin Injection
Description
AMIKACIN (AMPIDEF) INJECTION – TREATMENT OF BACTERIAL INFECTIONS
Ampidef 500mg Injection is an anti-microbial used to forestall or treat a wide assortment of bacterial diseases. This may incorporate diseases of the urinary parcel, bones and joints, lungs (eg. Pneumonia), cerebrum, blood, and some others. It is likewise utilized in hospitalized patients to forestall contaminations.
How Ampidef 500mg Injection is used?
Ampidef 500mg Injection works by halting the development of microbes. It is given as a trickle (intravenous implantation) or as an infusion straightforwardly into a vein or a muscle under the management of a medical care proficient and ought not to act naturally controlled. Your primary care physician may move you to another anti-infection after cultural reports become accessible. It ought to be utilized routinely during uniformly dispersed time stretches recommended by your PCP. Try not to avoid any portions and finish the full course of treatment regardless of whether you feel much improved. Halting the medication too soon may prompt the disease to return or deteriorate.
Common Side effects of the Injection.
The basic results of this medication incorporate infusion site responses and expanded blood urea. Counsel your PCP if any of these results continue or if your condition doesn't improve, notwithstanding treatment. A few patients accepting high portions may create balance problems (loss of equilibrium), kidney harm, and hearing misfortune. Along these lines, kindly adhere to every one of the directions given by your primary care physician while utilizing this medication.
Precautions:
Before taking it, let your doctor know if you have any liver problems. It may also not be suitable for people who have a slow heart rate, severe circulation problems, severe heart failure, or low blood pressure. Pregnant or breastfeeding mothers should also consult their doctor before taking it. You must talk to your doctor to find out whether this medicine is suitable for you to use. You should have your blood pressure checked regularly to make sure that this medicine is working properly. Avoid drinking alcohol as it may increase certain side effects.