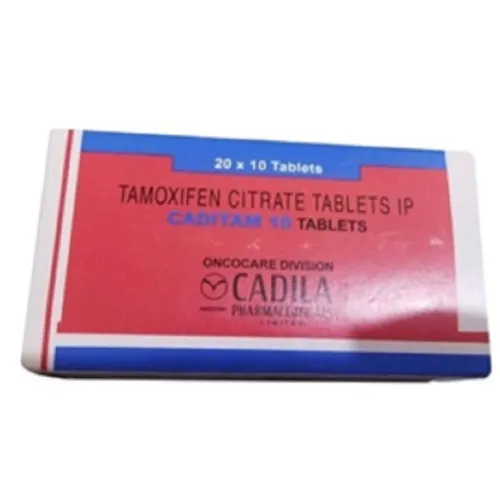 Caditam – Tamoxifen Citrate 10mg Tablet
Cadila Pharmaceuticals Ltd
Description
Description:
Fedelty Health Care operates companies in Venezuela, Saudi Arabia, Cambodia, Oman, Brazil, Lebanon, Chile, Peru, Cuba, and Fiji as Caditam 10mg Tablet third-party manufacturer, online pharmacy dropshipping, major pharma exporter, and pharmaceutical contract manufacturer. Hospital supply, government supply, named patient supply, cold chain supply, and drop shipment are some of the other services they offer.
Caditam 10mg Tablet is an anti-estrogens. It is used in the treatment of breast cancer. It is also used to reduce the risk of breast cancer in pre- and postmenopausal women with a high risk. This medicine helps to slow down the growth and multiplication of cancer cells.
Caditam 10mg Tablet is also helpful in the treatment of infertility. It can be taken with or without food, but take it at the same time to get the most benefit. It should be taken as your doctor's advice. The dose and how often you take it depends on what you are taking it for. Your doctor will decide how much you need to improve your symptoms. Swallow the tablets whole with a drink of water. This medicine is generally taken for 10 to 15 years. You should take this medicine for as long as it is prescribed for you.
The most common side effects of this medicine include hot flashes, mood swings, vaginal discharge, vaginal bleeding, nausea, and fluid retention. If these bother you or appear serious, let your doctor know. There may be ways of reducing or preventing them. Some side effects may mean you should inform your doctor immediately include vaginal bleeding, irregular menstrual period, and vaginal discharge. It makes birth control pills less effective, hence use a condom and other preventive measures to avoid pregnancy.
Benefits of Caditam Tablet:
In Breast cancer
Caditam 10mg Tablet relieves the symptoms of breast cancer such as breast lumps, bloody discharge from nipple or changes in the shape or texture of the breast. It works by altering the production of those hormones in the body that are essential for the growth and spread of breast cancer, both in pre as well as postmenopausal women. It may also interact with other hormones or have a direct effect on the cancer to stop its growth.
Side Effects of Caditam Tablet:
Most side effects do not require any medical attention and disappear as your body adjusts to the medicine. Consult your doctor if they persist or if you're worried about them.
Common side effects of Caditam: –
Hot flashes.
Nausea.
Vaginal discharge.
Vaginal bleeding.
Mood swings.
Fluid retention.
How to use Caditam Tablet:
Take this medicine in the dose and duration as advised by your doctor. Swallow it as a whole. Do not chew, crush or break it. Caditam 10mg Tablet may be taken with or without food, but it is better to take it at a fixed time.
How Caditam Tablet works:
Caditam 10mg Tablet is a hormone-based medication. It works by binding to estrogen receptors and blocking the effects of estrogen (a natural female hormone) in the breast tissue. This slows down the growth and multiplication of breast cancer cells.
Safety Advice:
Alcohol
It is unsafe to consume alcohol with Caditam 10mg Tablet.
Pregnancy
Caditam 10mg Tablet is highly unsafe to use during pregnancy. Seek your doctor's advice as studies on pregnant women and animals have shown significant harmful effects to the developing baby.
Breast feeding
Caditam 10mg Tablet is probably unsafe to use during breastfeeding. Limited human data suggests that the drug may pass into the breastmilk and harm the baby.
Driving
Caditam 10mg Tablet may cause side effects which could affect your ability to drive. It may cause tiredness. This may affect your driving ability.
Kidney
Caditam 10mg Tablet is probably safe to use in patients with kidney disease. Limited data available suggests that dose adjustment of the tablet may not be needed in these patients. Please consult your doctor.
Liver
There is limited information available on the use of Caditam 10mg Tablet in patients with liver disease. Please consult your doctor.