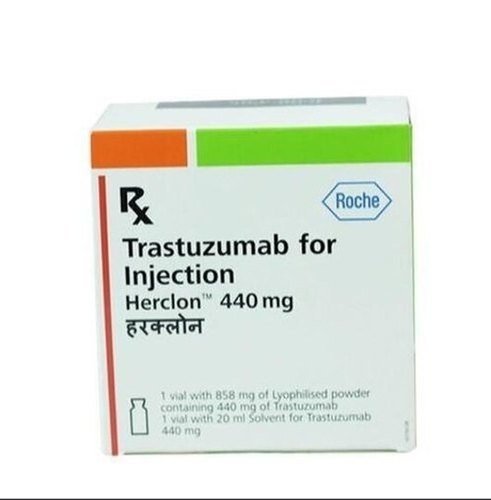 Herclon – Trastuzumab 440mg Injection
Roche Products India Pvt Ltd
Roche Products India Pvt Ltd
Description
Description:
Fedelty Health Care operates companies in Venezuela, Saudi Arabia, Cambodia, Oman, Brazil, Lebanon, Chile, Peru, Cuba, and Fiji as Herclon Injection third-party manufacturer, online pharmacy dropshipping, major pharma exporter, and pharmaceutical contract manufacturer. Hospital supply, government supply, named patient supply, cold chain supply, and drop shipment are some of the other services they offer.
Herclon Injection is used in the treatment of breast and stomach cancer. It works by killing the cancer cells by inhibiting HER2 (human epidermal growth factor receptor protein).
Herclon Injection is given as an injection by a qualified medical professional. Your doctor will decide what dose is necessary and how often you need to take it. This will depend on what you are being treated for and may change from time to time. You should take it exactly as your doctor has advised. Taking it in the wrong way or taking too much can cause very serious side effects. It may take several weeks or months for you to see or feel the benefits but do not stop taking it unless your doctor tells you to.
Uses of Herclon Injection:
Breast cancer.
Stomach cancer.
Benefits of Herclon Injection:
In Breast cancer
Herclon Injection is used to treat breast cancer when other medicines have failed to show significant improvement. It helps to stop cancer growth and further spread and relieves the symptoms of breast cancer such as breast lumps, bloody discharge from nipple or changes in the shape or texture of the breast. This medicine is given as an injection by a doctor or nurse. Follow your doctor's instructions carefully to get the most benefit.
In Stomach cancer
Stomach cancer also known as gastric cancer, may occur in the inner lining (called mucosa) of the stomach or in the walls of the stomach. These are of various kinds depending on the origin, affected area and severity of the cancer. Herclon Injection helps to kill the cancer cells and also stops their further growth and spread. Follow your doctor's instructions carefully to get the most benefit.
Show Less
Side Effects of Herclon Injection:
Common side effects of Herclon: –
Anemia (low number of red blood cells).
Chills.
Common cold.
Cough.
Decreased blood cells (red cells, white cells, and platelets).
Diarrhea.
Fatigue.
Fever.
Headache.
Heart failure.
Infection.
Insomnia (difficulty in sleeping).
Mucosal inflammation.
Nausea.
Rash.
Stomatitis (Inflammation of the mouth).
Taste change.
Upper respiratory tract infection.
Weight loss.
How to use Herclon Injection:
Your doctor or nurse will give you this medicine. Kindly do not self administer.
Safety Advice:
Alcohol
Herclon Injection may cause excessive drowsiness with alcohol.
Pregnancy
Herclon Injection is unsafe to use during pregnancy as there is definite evidence of risk to the developing baby. However, the doctor may rarely prescribe it in some life-threatening situations if the benefits are more than the potential risks. Please consult your doctor.
Breast feeding
Herclon Injection is probably unsafe to use during breastfeeding. Limited human data suggests that the drug may pass into the breastmilk and harm the baby.
Driving
It is not known whether Herclon Injection alters the ability to drive. Do not drive if you experience any symptoms that affect your ability to concentrate and react.
Kidney
Herclon Injection is probably safe to use in patients with kidney disease. Limited data available suggests that dose adjustment of this injection may not be needed in these patients.
Liver
There is limited information available on the use of Herclon Injection in patients with liver disease. Please consult your doctor.
What if you forget to take Herclon Injection?
If you miss a dose of Herclon Injection, please consult your doctor.