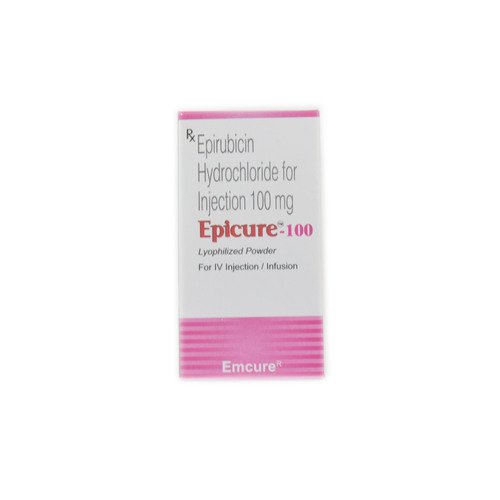 Epicure – Epirubicin 100mg Injection
Emcure Pharmaceuticals Ltd
Description
Description:
Fedelty Health Care operates companies in Venezuela, Saudi Arabia, Cambodia, Oman, Brazil, Lebanon, Chile, Peru, Cuba, and Fiji as Epicure 100mg Injection third-party manufacturer, online pharmacy dropshipping, major pharma exporter, and pharmaceutical contract manufacturer. Hospital supply, government supply, named patient supply, cold chain supply, and drop shipment are some of the other services they offer.
Epicure 100mg Injection is used in the treatment of various types of cancers of blood, breast, stomach, lung, ovaries and soft tissues. It also helps to prevent the recurrence of bladder cancer after surgery.
It is given as a drip or infusion vein with extreme caution by a qualified medical professional. It can be used alone, or sometimes given together with certain other medicines as part of combination chemotherapy. Your doctor will decide what dose is necessary and how often you need to take it. This will depend on what you are being treated for and may change from time to time. You should take it exactly as your doctor has advised. Taking it in the wrong way or taking too much can cause very serious side effects. It may take several weeks or months for you to see or feel the benefits but do not stop taking it unless your doctor tells you to. It makes contraceptive pills less effective, so it advised to both male and female to use reliable contraception during the treatment.
Uses of Epicure Injection:
Benefits of Epicure Injection:
In Cancer
Epicure 100mg Injection helps to treat certain kinds of cancer. It may be used alone or in combination with other medicines to treat cancer in various parts of the body. Epicure 100mg Injection kills or stops the growth of cancer cells and also prevents the multiplication of cancer cells. It is a potent and very toxic medicine and you should discuss the risks and benefits with your doctor. You should avoid drinking alcohol while having this treatment and drink plenty of water to stay hydrated.
Side Effects of Epicure Injection:
Most side effects do not require any medical attention and disappear as your body adjusts to the medicine. Consult your doctor if they persist or if you're worried about them.
Common side effects of Epicure: –
Low blood platelets.
Nausea.
Hair loss.
Absence of menstrual periods.
Fever.
Anemia (low number of red blood cells).
Diarrhea.
Weight loss.
Decreased white blood cell count (neutrophils).
Hot flashes.
Gastrointestinal inflammation.
Rash.
Low energy.
Eye disorder.
How to use Epicure Injection:
Your doctor or nurse will give you this medicine. Kindly do not self administer.
How Epicure Injection works:
Epicure 100mg Injection is an anti-cancer medication. It works by suppressing the activity of an enzyme (topoisomerase II) involved in DNA multiplication of the breast cancer cells. It also forms harmful chemicals (free radicals) which cause DNA damage. This slows the growth of breast cancer cells and eventually kills them.
Safety Advice:
Alcohol
It is unsafe to consume alcohol with Epicure 100mg Injection.
Pregnancy
Epicure 100mg Injection is unsafe to use during pregnancy as there is definite evidence of risk to the developing baby. However, the doctor may rarely prescribe it in some life-threatening situations if the benefits are more than the potential risks. Please consult your doctor.
Breast feeding
Epicure 100mg Injection is unsafe to use during breastfeeding. Data suggests that the drug may cause toxicity to the baby.
Driving
Epicure 100mg Injection may cause side effects which could affect your ability to drive.
Epicure 100mg Injection may cause episodes of nausea and vomiting, which can temporarily lead to an impairment of the ability to drive.
Kidney
Epicure 100mg Injection is probably safe to use in patients with kidney disease. Limited data available suggests that dose adjustment of Epicure 100mg Injection may not be needed in these patients. Please consult your doctor.
Lower doses may be considered in patients with serum creatinine > 5 mg/dL.
Liver
Epicure 100mg Injection should be used with caution in patients with liver disease. Dose adjustment of Epicure 100mg Injection may be needed. Use of Epicure 100mg Injection is not recommended in patients with severe liver disease.