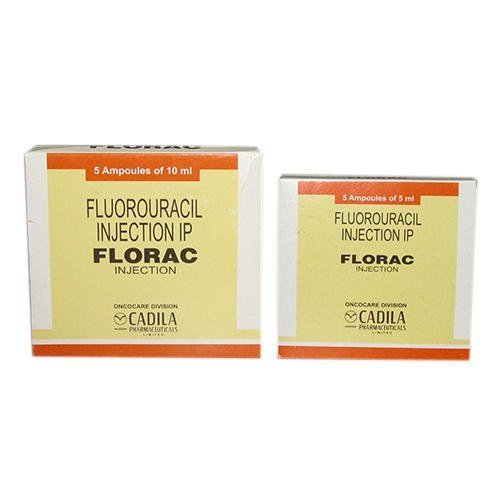 Florac – Fluorouracil Injection
Cadila Healthcare Limited
Description
Description:
Fedelty Health Care operates companies in Venezuela, Saudi Arabia, Cambodia, Oman, Brazil, Lebanon, Chile, Peru, Cuba, and Fiji as Florac 250mg Injection third-party manufacturer, online pharmacy dropshipping, major pharma exporter, and pharmaceutical contract manufacturer. Hospital supply, government supply, named patient supply, cold chain supply, and drop shipment are some of the other services they offer.
Florac 250mg Injection is used in the treatment of cancers of the stomach, colon, rectum, breast, and lungs. It may be used to treat other conditions, as determined by the doctor. It is sometimes used with certain other medicines as part of combination chemotherapy.
Florac 250mg Injection is given as an injection under the supervision of a doctor.  Your doctor will decide what dose is necessary and how often you need to take it. This will depend on what you are being treated for and may change from time to time. You should take it exactly as your doctor has advised. Taking it in the wrong way or taking too much can cause very serious side effects. It may take several weeks or months for you to see or feel the benefits but do not stop taking it unless your doctor tells you to.
The most common side effects of this medicine include increased risk of infection, mouth ulcers, vomiting, weakness, and nausea. This medicine may reduce the number of blood cells (decrease red blood and white blood cells) in your blood, thereby, increasing the susceptibility to infections. Regular blood tests are required to check your blood cells along with heart, liver, and blood uric acid levels.
Uses of Florac Injection:
Benefits of Florac Injection:
In Cancer
Florac 250mg Injection helps to treat certain kinds of cancer such as cancer of the breasts, lungs, colon, rectum, etc. It may be used alone or in combination with other medicines to treat cancer in various parts of the body. Florac 250mg Injection kills or stops the growth of cancer cells and also prevents the multiplication of cancer cells. It is potent and very toxic medicine and you should discuss the risks and benefits with your doctor. You should avoid drinking alcohol while having this treatment and drink plenty of water to stay hydrated.
Side Effects of Florac Injection:
Most side effects do not require any medical attention and disappear as your body adjusts to the medicine. Consult your doctor if they persist or if you're worried about them
Common side effects of Florac: –
Nausea
Vomiting
Hair loss
Diarrhea
Bronchospasm
Infection
Myelosuppression
Agranulocytosis (deficiency of granulocytes in the blood)
General discomfort
Itching
Skin exfoliation
Anemia (low number of red blood cells)
Febrile neutropenia
Angina (heart-related chest pain)
ECG changes
Decreased immunity
How to use Florac Injection:
Your doctor or nurse will give you this medicine. Kindly do not self-administer.
How Florac Injection works:
Florac 250mg Injection is an anticancer medication. It works by interfering with the growth of genetic material (DNA and RNA) of the cancer cells. This slows the growth of cancer cells and eventually kills them.
Safety Advice:
Alcohol
It is not known whether it is safe to consume alcohol with Florac 250mg Injection. Please consult your doctor.
Pregnancy
Florac 250mg Injection is unsafe to use during pregnancy as there is definite evidence of risk to the developing baby. However, the doctor may rarely prescribe it in some life-threatening situations if the benefits are more than the potential risks. Please consult your doctor.
Breast feeding
Florac 250mg Injection is unsafe to use during breastfeeding. Data suggests that the drug may cause toxicity to the baby.
Driving
Florac 250mg Injection may cause side effects that could affect your ability to drive.
Florac 250mg Injection can cause side effects such as nausea and can also produce adverse events on your nervous system which cause visual changes. This may affect your ability to drive.
Kidney
Florac 250mg Injection is probably safe to use in patients with kidney disease. Limited data available suggests that dose adjustment of the injection may not be needed in these patients.
Liver
Florac 250mg Injection should be used with caution in patients with liver disease. Dose adjustment of this injection may be needed. Please consult your doctor.