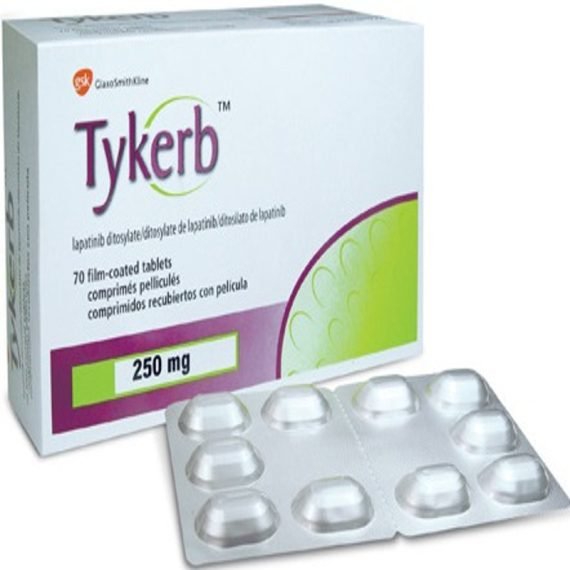 Tykerb – Laptinib Tablet
Glaxo SmithKline Pharmaceuticals Ltd
Description
LAPTINIB (TYKERB) TABLET – TREATMENT FOR BREAST CANCER
Breast cancer is treated with Tykerb 250mg Tablets. It functions by halting or reducing the development of cancer cells. To treat advanced-stage breast cancer, it may be taken either on its alone or in conjunction with another medication.
Tykerb 250mg Tablet ought to be consumed on an empty stomach, one hour prior to, or two hours following a meal. The dosage and timeframe change depending on how serious your ailment is and how you react to treatment. To prevent negative side effects, take the medication exactly as directed.
Fedelty Health Care is a Laptinib wholesaler, Pharmaceutical Cargo Bulk Exporter & Hospital Supply.
USES OF LAPTINIB (TYKERB) TABLET
WORKS OF LAPTINIB (TYKERB) TABLET
Tykerb 250mg Tablet is a cancer preventative drug. The human epidermal growth factor receptor protein (HER2) and epidermal growth factor receptor (EGFR) receptors, which are in charge of cell proliferation excess, are inhibited by it. This is how it prevents malignant cells from spreading and triggering downstream signaling cascades.
SIDE EFFECTS OF LAPTINIB (TYKERB) TABLET
Abdominal pain
Back pain
Breathing problems
Constipation
Cough
Diarrhea
Fatigue
Headache
Hot flashes
Increased bilirubin in the blood
Insomnia (difficulty in sleeping)
Joint pain
Liver damage
Loss of appetite
Mucosal inflammation
Nausea
Pain in extremities
Rash
Stomatitis (Inflammation of the mouth)
Vomiting
WARNING & PRECAUTIONS
Tykerb 250mg Tablet adverse effects may impair your ability to operate a motor vehicle.
Tykerb 250mg Tablet use during pregnancy is not advised due to clear evidence of danger to the unborn child. However, if the advantages outweigh the possible risks, a doctor might very rarely recommend it in specific life-threatening circumstances. Please speak with your physician.
Fedelty Health Care is a  Laptinib third-party manufacturer, bulk pharma exporter, and pharmaceutical contract manufacturer operating businesses in Venezuela, Saudi Arabia, Cambodia, Oman, Brazil, Lebanon, Chile, Peru, Cuba, and Fiji. Other services they provide are hospital supply, government supply, named patient supply, cold chain supply, and drop shipping.