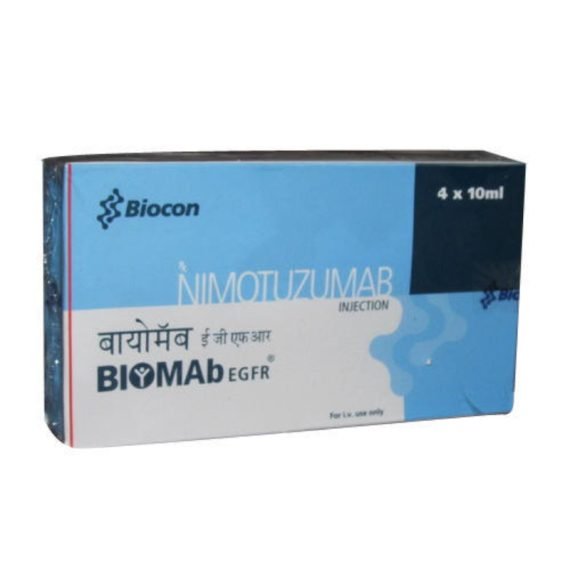 Biomab – Nimotuzumab 50mg Injection
Description
Nimotuzumab (Biomab) Injection – Treatment for Head and Neck Cancer
Nimotuzumab or Biomab Injection is a drug that is used to treat cancers of the head and neck, as well as cancers of the colon and rectum. It aids in the identification of cancer cells for immune system destruction. Under the direction of a doctor, Biomab Injection is administered as an injection. Your doctor will determine the appropriate dose and frequency of administration. This can vary depending on the reason you're being treated and may alter over time. You should follow your doctor's instructions in the letter. It can have potentially dangerous negative effects if taken incorrectly or in excess. If your doctor instructs you to, don't stop taking it. Weakness, vomiting, dizziness, and diarrhea are the most prevalent adverse effects of this medication. Let your doctor know if these irritate you or appear to be serious. It's possible that they can be reduced or prevented. If you have unexpected trouble breathing, shortness of breath, fever, or chills, call your doctor. Blood tests are performed on a regular basis to evaluate your blood cells, as well as your heart, liver, and electrolyte levels.
Nimotuzumab is manufactured by Biocon, which is a multinational biopharmaceutical firm dedicated to providing inexpensive, high-quality medications to everyone, everywhere.
Fedelty Health Care is a Nimotuzumab wholesaler, Pharmaceutical Cargo Bulk Exporter & Hospital Supply.
USES OF NIMOTUZUMAB (BIOMAB) 50MG INJECTION
Head and neck cancer
Cancer of colon and rectum
HOW NIMOTUZUMAB (BIOMAB) 50MG INJECTION WORKS
Nimotuzumab is a monoclonal antibody that interacts with cancer cell receptors precisely. As a result, the cancer cells are marked for elimination by the immune system.
Fedelty Health Care is a certified Nimotuzumab Bulk Pharma Exporter, Cargo Bulk Supplier, and pharmaceutical wholesaler in India.
DIRECTIONS FOR USE
This drug will be given to you by your doctor or nurse. Please do not self-medicate.
SIDE EFFECTS OF NIMOTUZUMAB (BIOMAB) 50MG INJECTION
Weakness
Vomiting
Dizziness
Blood in urine
Diarrhea
 WARNING & PRECAUTIONS
Using Nimotuzumab during pregnancy may be risky. Animal research has demonstrated negative effects on the growing fetus, despite the lack of human studies. Before prescribing it to you, your doctor will consider the advantages as well as any possible hazards. Please seek medical advice.
Fedelty Health Care is a Nimotuzumab bulk pharma exporter (Biomab Exporter) and pharmaceutical third-party manufacturer operating businesses in Venezuela, Saudi Arabia, Cambodia, Oman, Brazil, Lebanon, Chile, Peru, Cuba, and Fiji. Other services they provide are hospital supply, government supply, named patient supply, cold chain supply, and drop shipping.