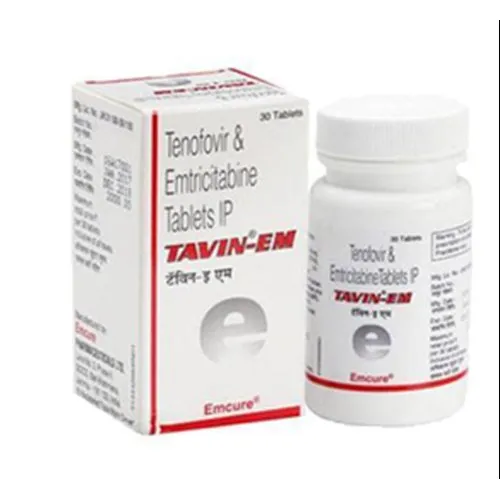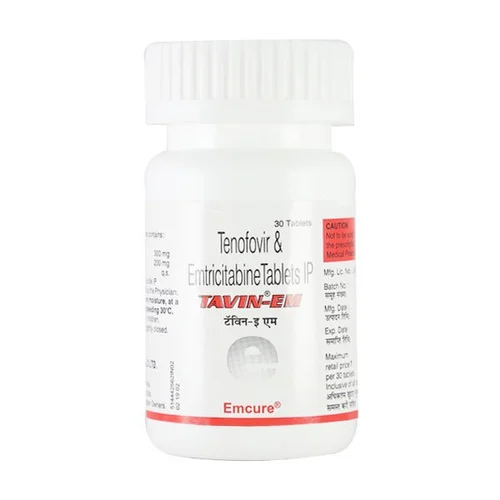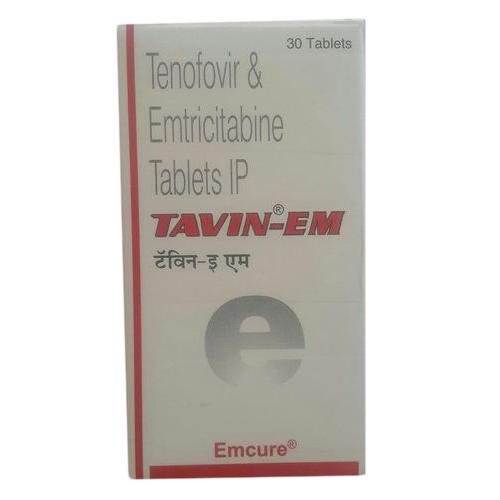 Tavin EM – Emtricitabine & Tenofovir Disoproxil Fumarate Tablet
Emtricitabine & Tenofovir Disoproxil Fumarate
Emcure Pharmaceuticals Ltd
Description
Description:
Fedelty Health Care operates companies in Venezuela, Saudi Arabia, Cambodia, Oman, Brazil, Lebanon, Chile, Peru, Cuba, and Fiji as Tavin EM Tablet third-party manufacturer, online pharmacy dropshipping, major pharma exporter, and pharmaceutical contract manufacturer. Hospital supply, government supply, named patient supply, cold chain supply, and drop shipment are some of the other services they offer.
Tavin EM Tablet belongs to a group of medicines called antiretrovirals. It is used to treat HIV (human immunodeficiency virus), the virus that can cause AIDS (acquired immunodeficiency syndrome). It helps to control HIV infection so your immune system can work better.
Tavin EM Tablet is not a cure for HIV or AIDS and only helps to decrease the amount of HIV in your body. This helps to lower your risk of getting HIV-related complications and improves your lifespan. It is prescribed in combination with other HIV medicines. Your doctor will recommend the best medicines for you and will decide the doses that you need. Follow carefully the instructions for all the medicines that you are given. It can be taken with or without food. Taking all these medicines regularly at the right times greatly increases their effectiveness and reduces the chances of HIV becoming resistant to them. It is important not to miss doses and to keep taking them until your doctor tells you it is safe to stop.
Do not have unprotected sex or share personal items like razors or toothbrushes, if you are HIV positive. Talk to your doctor about safe ways like condoms to prevent HIV transmission during sex.
Uses of Tavin EM Tablet:
Chronic hepatitis B virus (HBV) infection.
Side Effects of Tavin EM Tablet:
Most side effects do not require any medical attention and disappear as your body adjusts to the medicine. Consult your doctor if they persist or if you're worried about them.
Common side effects of Tavin EM: –
Fatigue.
Headache.
Nausea.
Diarrhea.
Dizziness.
Insomnia (difficulty in sleeping).
Depression.
Abnormal dreams.
Rash.
How Tavin EM Tablet works:
Tavin EM Tablet is an antiviral medication. It prevents the multiplication of virus in human cells. This stops the virus from producing new viruses and clears up your infection.
Safety Advice:
It is not known whether it is safe to consume alcohol with Tavin EM Tablet. Please consult your doctor.
Pregnancy
Tavin EM Tablet is generally considered safe to use during pregnancy. Animal studies have shown low or no adverse effects to the developing baby; however, there are limited human studies.
Breast feeding
Tavin EM Tablet is probably safe to use during breastfeeding. Limited human data suggests that the drug does not represent any significant risk to the baby.
Driving
Tavin EM Tablet may decrease alertness, affect your vision or make you feel sleepy and dizzy. Do not drive if these symptoms occur.
Kidney
Tavin EM Tablet should be used with caution in patients with kidney disease. Dose adjustment of Tavin EM Tablet may be needed. Please consult your doctor.
Liver
Tavin EM Tablet is probably safe to use in patients with liver disease. Limited data available suggests that dose adjustment of Tavin EM Tablet may not be needed in these patients. Please consult your doctor.
What if you forget to take Tavin EM Tablet?
If you miss a dose of Tavin EM Tablet, take it as soon as possible. However, if it is almost time for your next dose, skip the missed dose and go back to your regular schedule. Do not double the dose.