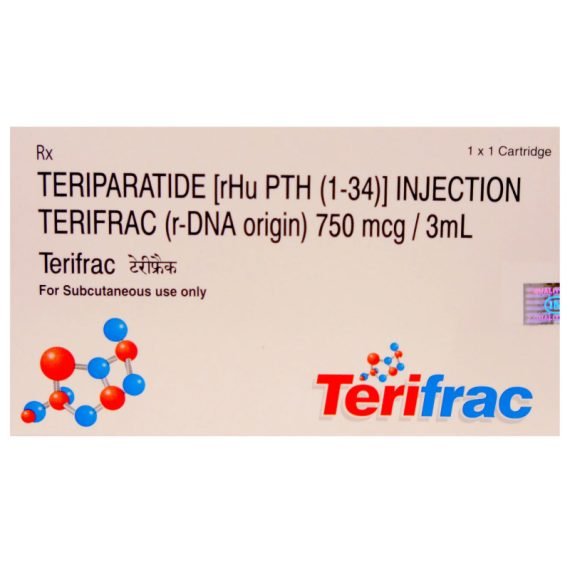 Terifrac – Teriparatide Injection
Intas Pharmaceuticals Ltd
Description
TERIPARATIDE (TERIFRAC) INJECTION – TREATMENT FOR OSTEOPOROSIS
A synthetic version of the parathyroid hormone called Terifrac Injection is used to treat men and postmenopausal women with severe osteoporosis who are at high risk of fracture. It functions by promoting the growth of new bone, which increases bone density and lowers the risk of spinal fractures.
A healthcare provider should inject Terifrac Injection beneath the skin or administer it. To get the most out of it, use it frequently and at the same time every day. It is often advised to take it for a maximum of two years.
Fedelty Health Care is a Teriparatide wholesaler, Pharmaceutical Cargo Bulk Exporter & Hospital Supply.
USES OF TERIPARATIDE (TERIFRAC) INJECTION
WORKS OF TERIPARATIDE (TERIFRAC) INJECTION
A synthetic version of the human hormone parathyroid hormone is known as Terifrac Injection (PTH). It functions by raising bone-forming cells' activity and population (osteoblasts). By doing so, the risk of fractures is reduced and the bones are strengthened.
SIDE EFFECTS OF TERIPARATIDE (TERIFRAC) INJECTION
Joint pain
Injection site reactions (pain, swelling, redness)
Nausea
Leg cramps
WARNING & PRECAUTIONS
Terifrac Injection may make you feel tired and lightheaded, less alert, or have an impact on your vision. If you experience these symptoms, don't drive.
Patients with kidney conditions should use Terifrac Injection with caution. Terifrac Injection dosage adjustment can be required. Please speak with your physician.
It is not advised for patients with severe kidney disease to use Terifrac Injection.
Fedelty Health Care is a  Teriparatide third-party manufacturer, bulk pharma exporter, and pharmaceutical contract manufacturer operating businesses in Venezuela, Saudi Arabia, Cambodia, Oman, Brazil, Lebanon, Chile, Peru, Cuba, and Fiji. Other services they provide are hospital supply, government supply, named patient supply, cold chain supply, and drop shipping.