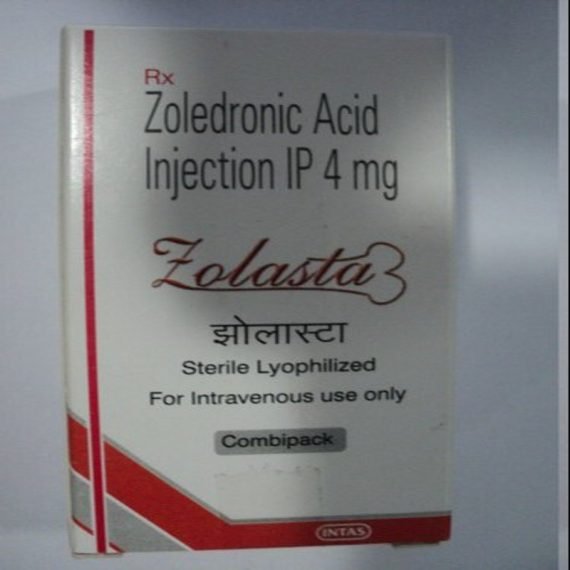 Zolasta – Zoledronic Acid Injection
Intas Pharmaceuticals Ltd
Description
ZOLEDRONIC ACID (ZOLASTA) INJECTION – TREATMENT FOR OSTEOPOROSIS
Zolasta 4 mg Menopause- or steroid-induced osteoporosis can be treated or prevented using injections. This medication can lower your chance of breaking a bone. Additionally, it is applied to cancer patients with elevated calcium levels.
Zolasta 4 mg Nurses or doctors administer injections. Your doctor will choose the dosage and administration schedule for you. Depending on your underlying illness, you might just require a single injection or you might need recurring injections.
Fedelty Health Care is a Zoledronic Acid wholesaler, Pharmaceutical Cargo Bulk Exporter & Hospital Supply.
USES OF ZOLEDRONIC ACID (ZOLASTA) INJECTION
Osteoporosis
Hypercalcemia
WORKS OF ZOLEDRONIC ACID (ZOLASTA) INJECTION
Zolasta 4 mg Bisphosphonates are what is injected. It functions by reducing osteoclasts' activity, which is a cell responsible for breaking down bone. Reducing the likelihood of fractures strengthens the bones.
SIDE EFFECTS OF ZOLEDRONIC ACID (ZOLASTA) INJECTION
Headache
Back pain
Musculoskeletal (bone, muscle, or joint) pain
Heartburn
Diarrhea
Nausea
Breathlessness
Fatigue
Constipation
Bone pain
Vomiting
Fever
Anemia (low number of red blood cells)
WARNING & PRECAUTIONS
Zolasta 4 mg Getting an injection could make you feel drowsy and lightheaded, less alert, or have vision problems. If these symptoms appear, don't drive.
Zolasta 4 mg Given the clear proof of a risk to the unborn child, it is dangerous to use an injection during pregnancy. In rare instances, though, when the dangers are outweighed by the benefits, a doctor might advise it in a life-threatening scenario. I urge you to see a doctor.
Fedelty Health Care is a  Zoledronic Acid third-party manufacturer, bulk pharma exporter, and pharmaceutical contract manufacturer operating businesses in Venezuela, Saudi Arabia, Cambodia, Oman, Brazil, Lebanon, Chile, Peru, Cuba, and Fiji. Other services they provide are hospital supply, government supply, named patient supply, cold chain supply, and drop shipping.