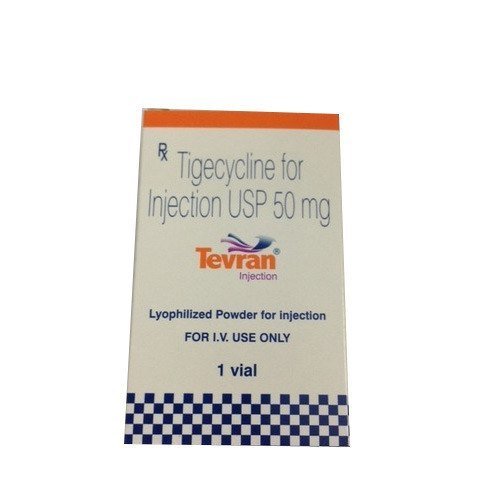 Tevran – Tigecycline 50mg Injection
Description
Description:
Fedelty Health Care operates companies in Venezuela, Saudi Arabia, Cambodia, Oman, Brazil, Lebanon, Chile, Peru, Cuba, and Fiji as Tevran 50mg Injection third-party manufacturer, major pharma exporter, and pharmaceutical contract manufacturer. Hospital supply, government supply, named patient supply, cold chain supply, and drop shipment are some of the other services they offer.
Tevran 50mg Injection is an antibiotic that fights bacteria. It is used to treat severe infections of the body like skin, intra-abdominal infections, and community-acquired bacterial pneumonia. It works by killing the bacteria that cause these problems. But, it will not treat a viral infection.
It is commonly used to treat critically ill patients admitted to the hospital. This medicine is given by drip or by direct injection into a vein by a doctor or a nurse. The dose will depend on what type of infection you have, where it is in the body, and how serious it is. You should have your injections at the same time each day to get the most benefit and you should keep on taking this medicine for as long as you are prescribed it, even if your symptoms quickly improve. If you stop taking it too early the infection may return or worsen.
Uses of Tevran Injection:
Severe bacterial infections
Benefits of Tevran Injection:
In Severe bacterial infections
Tevran 50mg Injection works by killing bacteria which can cause serious infections. It is used to treat many different types of bacterial infections such as infections of the lungs (pneumonia), stomach, and skin. It is given by a doctor or nurse into a vein and should not be self-administered. This Injection usually makes you feel better very quickly but you should continue taking it as prescribed even when you feel better to make sure that all bacteria are killed and do not become resistant.
Side effects of Tevran Injection:
Common side effects of Tevran are: –
Headache
Vomiting
Nausea
Increased liver enzymes
Stomach pain
Diarrhea
Safety Advice:
Consuming alcohol with this Injection does not cause any harmful side effects.
Tevran 50mg Injection is unsafe to use during pregnancy as there is definite evidence of risk to the developing baby. However, the doctor may rarely prescribe it in some life-threatening situations if the benefits are more than the potential risks. Please consult your doctor.
According to research it is probably unsafe to use during breastfeeding. Limited human data suggests that the drug may pass into the breastmilk and harm the baby.
Tevran 50mg Injection may decrease alertness, affect your vision or make you feel sleepy and dizzy. Do not drive if these symptoms occur.
It is known as safe to use in patients with kidney disease. No dose adjustment of Tevran 50mg Injection is recommended.
Tevran 50mg Injection should be used with caution in patients with severe liver disease. Dose adjustment of Tevran 50mg Injection may be needed. Please consult your doctor.
What if you forget to take Tevran Injection:
If you miss a dose of Tevran 50mg Injection, consult your doctor.