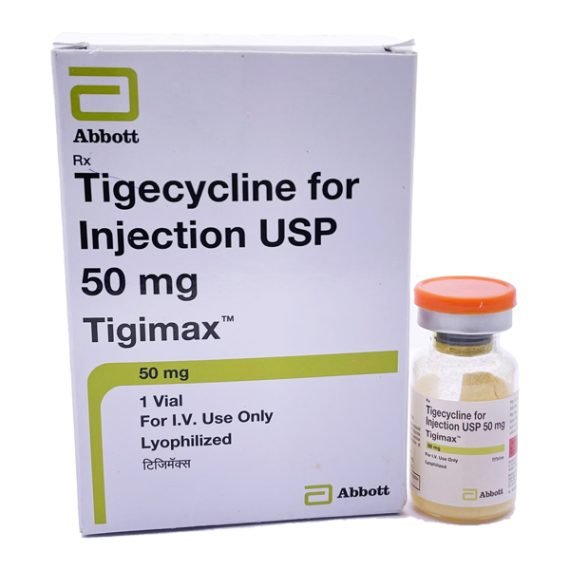 Tigimax – Tigecycline 50mg Injection
Description
Tigimax – Treat for Skin Infections
Tigimax 50mg (Tigecycline) Injection is a bacteria-fighting antibiotic. It's used to treat skin infections, intra-abdominal infections, and community-acquired bacterial pneumonia. It works by eradicating the germs that are the source of these issues. It will not, however, treat a viral illness. Tigimax 50mg Injections are often used to treat severely unwell hospital patients. A doctor or nurse administers this medication to either a drip or a direct injection into a vein. The dose will be determined by the type of infection, its location in the body, and the severity of the infection. To get the best effect, get your injections at the same time each day, and you should continue to take this treatment for as long as it is suggested, even if your symptoms improve fast. If you stop taking medication too soon, the illness might come back or get worse.
Fedelty Health Care is Tigimax Contract Manufacturer, Pharmaceutical Cargo Bulk Exporter & Hospital Supply.
USES OF TIGIMAX 50MG
Severe bacterial infections
HOW TIGIMAX 50MG WORKS
Tigimax 50mg Antibiotics are administered through injection. It inhibits bacterial development by inhibiting the creation of key proteins that bacteria need to carry out their tasks.
Fedelty Health Care is a certified Tigimax Bulk Pharma Exporter, Cargo Bulk Supplier, and pharmaceutical wholesaler in India.
DIRECTIONS FOR USE
Your specialist will give you this prescription. Kindly do not self-administer.
SIDE EFFECTS OF TIGIMAX 50MG
Headache
Vomiting
Nausea
Increased liver enzymes
Stomach pain
Diarrhea
WARNING & PRECAUTIONS
Tigimax 50mg Injections can make you drowsy and dizzy by lowering your alertness, affecting your eyesight, or making you sleepy and dizzy. Assuming that you have any of these indications, you ought not to drive.
Tigimax 50mg Injection is safe to use in people with renal problems. There is no need to alter the dose of Tigimax 50mg Injection.
Tigimax 50mg in patients with severe liver disease, the injection should be used with caution. Dose modification of Tigimax 50mg the Injection may be needed. Please seek medical advice.
Tigimax 50mg Injections ought not to be utilized during pregnancy since there is obvious proof, they represent a danger to the developing baby. Be that as it may, in some perilous occurrences where the benefits offset the risks, the specialist might endorse it. Please seek medical advice.
Tigimax 50mg Using injections while nursing is not a good idea. The medicine may transfer into breastmilk and damage the newborn, according to limited human research.
Fedelty Health Care is a Tigimax bulk pharma exporter (Tigimax Exporter) and a pharmaceutical third-party manufacturer operating businesses in Venezuela, Saudi Arabia, Cambodia, Oman, Brazil, Lebanon, Chile, Peru, Cuba, and Fiji. Other services they provide are hospital supply, government supply, named patient supply, cold chain supply, and drop shipping.