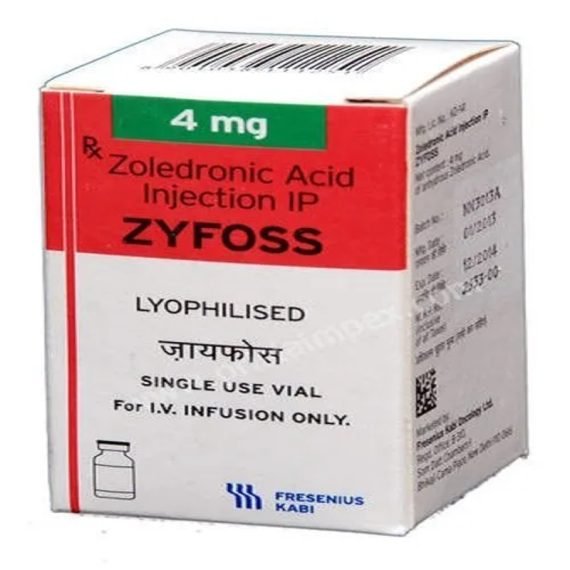 Zyfoss – Zoledronic Acid Injection
Fresenius Kabi India Pvt Ltd
Description
ZOLEDRONIC ACID (ZYFOSS) INJECTION – TREATMENT FOR OSTEOPOROSIS
Osteoporosis brought on by menopause or steroid use is treated or prevented with Zyfoss Injection. You can lessen your chance of fracturing bones by taking this medication. Additionally, it is utilized to treat excessive calcium levels in cancer patients.
By a physician or nurse, Zyfoss Injection is administered. Your doctor will choose how often and how much medication you will receive.
Fedelty Health Care is a Zoledronic Acid wholesaler, Pharmaceutical Cargo Bulk Exporter & Hospital Supply.
USES OF ZOLEDRONIC ACID (ZYFOSS) INJECTION
Osteoporosis
Hypercalcemia
WORKS OF ZOLEDRONIC ACID (ZYFOSS) INJECTION
Injection of Zyfoss is a bisphosphonate. It functions by reducing the activity of osteoclasts, and bone-decaying cells. This strengthens the bones and minimizes the risk of fractures.
SIDE EFFECTS OF ZOLEDRONIC ACID (ZYFOSS) INJECTION
Headache
Back pain
Musculoskeletal (bone, muscle, or joint) pain
Heartburn
Diarrhea
Nausea
Breathlessness
Fatigue
Constipation
Bone pain
Vomiting
Fever
Anemia (low number of red blood cells)
WARNING & PRECAUTIONS
Zyfoss Injection may impair vision, reduce alertness, or induce sleep and dizziness. If you experience these symptoms, don't drive.
Zyfoss Injection should not be used during pregnancy because there is clear evidence that it poses harm to the unborn child. However, if the advantages outweigh the possible risks, a doctor might very rarely recommend it in specific life-threatening circumstances. Please speak with your physician.
Fedelty Health Care is a  Zoledronic Acid third-party manufacturer, bulk pharma exporter, and pharmaceutical contract manufacturer operating businesses in Venezuela, Saudi Arabia, Cambodia, Oman, Brazil, Lebanon, Chile, Peru, Cuba, and Fiji. Other services they provide are hospital supply, government supply, named patient supply, cold chain supply, and drop shipping.