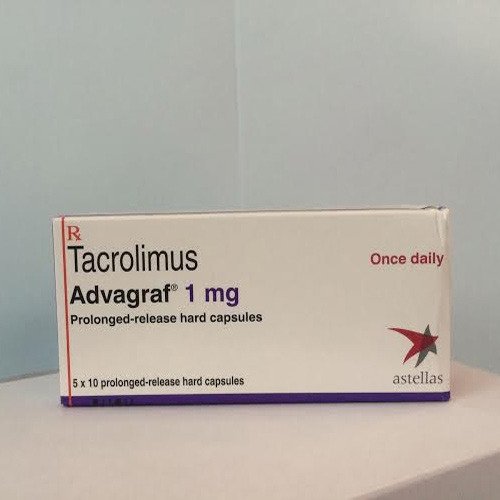 Advagraf – Tacrolimus 1mg Capsule
Description
Description:
Fedelty Health Care operates companies in Venezuela, Saudi Arabia, Cambodia, Oman, Brazil, Lebanon, Chile, Peru, Cuba, and Fiji as Advagraf 1mg Capsule third-party manufacturer, online pharmacy dropshipping, major pharma exporter, and pharmaceutical contract manufacturer. Hospital supply, government supply, named patient supply, cold chain supply, and drop shipment are some of the other services they offer.
Advagraf 1mg Capsule is used along with other medicines to prevent your body from rejecting a new organ (e.g., liver, kidney, or heart) after transplant. It does so by weakening your body's immune system, so it does not attack the new organ. This medication belongs to a class of drugs known as immunosuppressants.
Advagraf 1mg Capsule contains 'Tacrolimus' that works by suppressing the over-reaction of immune cells in the skin to a stimulus. Thereby, reduces allergic reaction and inflammation (redness and swelling). Also, Advagraf 1mg Capsule 10's suppresses T and B lymphocytes (cells in the immune system) that normally attacks foreign invaders and defend the body against foreign cells and infection. Thereby prevents organ rejection in transplanted patients and helps the body in accepting the new organ.
The amount of Advagraf 1mg Capsule you take and how often you take it depends on the type of transplant you have, your body weight, and what other medicines you are taking. Follow your doctor's instructions carefully. You should take it on an empty stomach, at least 1 hour before or 2 hours after a meal. Take this medicine regularly to get the maximum benefit and keep taking it, even if you feel well. If you stop taking it, you may increase the chances of rejecting your transplanted organ.
Uses of Advagraf Capsule:
Benefits of Advagraf Capsule:
In Prevention of organ rejection in transplant patients
Advagraf 1mg Capsule belongs to a group of medicines known as immunosuppressants. Organ rejection happens when your immune system treats the new organ as an invader and attacks it. This medicine weakens your immune response (which usually fights infection) and reduces the chance of your body attacking the transplanted organ. It is used in combination with other medicines to make it much more likely that your transplant operation will be successful. You should continue taking the medicine and should not stop it until your doctor says so.
Side Effects of Advagraf Capsule:
Most side effects do not require any medical attention and disappear as your body adjusts to the medicine. Consult your doctor if they persist or if you're worried about them.
Common side effects of Advagraf: –
Diarrhea.
Increased glucose level in blood.
Increased thirst.
Kidney damage.
Liver damage.
Nausea.
Stomach pain.
How to use Advagraf Capsule:
Use it as advised by your doctor or check the label for directions before use. Advagraf 1mg Capsule is to be taken empty stomach.
Safety Advice:
Alcohol
It is unsafe to consume alcohol with Advagraf 1mg Capsule. If it advice not to drink alcohol while medicating this capsule.
Pregnancy
Advagraf 1mg Capsule may be unsafe to use during pregnancy. Although there are limited studies in humans, animal studies have shown harmful effects on the developing baby. Your doctor will weigh the benefits and any potential risks before prescribing it to you. Kindly consult your doctor before taking this capsule.
Breast feeding
Advagraf 1mg Capsule is probably unsafe to use during breastfeeding. Limited human data suggests that the drug may pass into the breastmilk and harm the baby.
Driving
Advagraf 1mg Capsule may decrease alertness, affect your vision or make you feel sleepy and dizzy. Do not drive if these symptoms occur.
Kidney
Advagraf 1mg Capsule should be used with caution in patients with kidney disease. Dose adjustment of this capsule may be needed. Please consult your doctor.
Liver
Advagraf 1mg Capsule PR should be used with caution in patients with liver disease. Dose adjustment of Advagraf 1mg Capsule may be needed. Please consult your doctor.
What if you forget to take Advagraf Capsule:
If you miss a dose of Advagraf 1mg Capsule, take it as soon as possible. However, if it is almost time for your next dose, skip the missed dose and go back to your regular schedule. Do not double the dose.