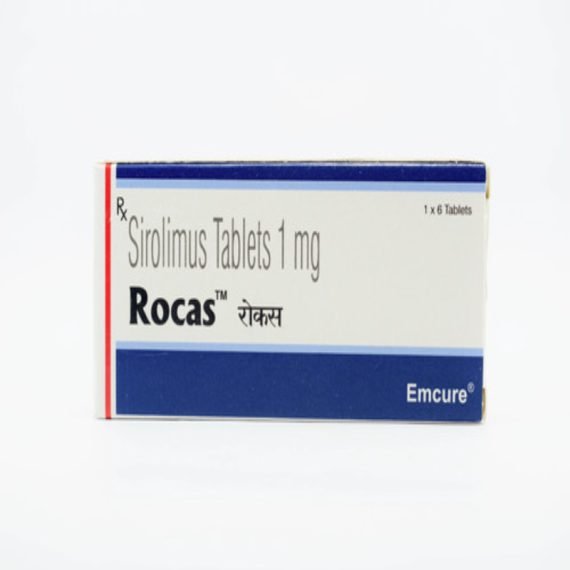 Rocas – Sirolimus 1mg Tablet
Emcure Pharmaceuticals Ltd
Description
SIROLIMUS (ROCAS) TABLET – TREATMENT FOR PREVENTION OF KIDNEY TRANSPLANT REJECTION
Sirolimus or Rocas 1mg Tablet is used in transplant patients to avoid organ rejection. It modulates the immunological response of the body, allowing the body to accept the new organ.
Rocas 1mg Tablet must be taken at the prescribed dose and period. It can be taken with or without food, but it should be taken at the same time every day. An overdose of this medication may have catastrophic consequences for the body.
Rocas 1mg Tablet is used in conjunction with other drugs to prevent rejection of kidney transplants. In persons getting kidney transplants, rejection usually occurs as a result of an attack by the recipient's immune system on the transplant itself. This medication suppresses the action of a person's own immune system, preventing rejection.
Fedelty Health Care is a Sirolimus wholesaler, Pharmaceutical Cargo Bulk Exporter & Hospital Supply.
USES OF SIROLIMUS (ROCAS) TABLET
Prevention of kidney transplant rejection
WORKS OF SIROLIMUS (ROCAS) TABLET
Rocas 1mg Tablet is an immunosuppressive medication. It works by suppressing your body's immunological reaction after an organ transplant (liver, kidney, heart). This assists your body in accepting the replacement organ as if it were your own.
Fedelty Health Care is India's certified Sirolimus Bulk Pharma Exporter, Cargo Bulk Supplier, and pharmaceutical wholesaler.
SIDE EFFECTS OF SIROLIMUS (ROCAS) TABLET
Most adverse effects do not necessitate medical treatment and will go away as your body adjusts to the medication. Consult your doctor if they persist or if you are concerned.
Nausea
Increased blood lipid level
Fever
Diarrhea
Anemia (low number of red blood cells)
Urinary tract infection
Low blood platelets
Abdominal pain
WARNING & PRECAUTIONS
Rocas 1mg Tablet does not normally impair your ability to drive.
Rocas 1mg Tablet may be harmful if taken during pregnancy. Although there has been little human research, animal studies have revealed detrimental consequences on the growing fetus. Before prescribing it to you, your doctor will consider the advantages as well as any potential hazards. Please consult your physician.
Rocas 1mg Tablet is not harmful to persons with a kidney condition. There is no need to modify the dosage of Rocas 1mg Tablet.
In patients with severe liver disease, Rocas 1mg Tablet should be taken with caution. Rocas 1mg Tablet dosage may need to be adjusted. Please consult your physician.
In patients with mild to moderate liver disease, dose modification is not advised.
Fedelty Health Care is a Sirolimus bulk pharma exporter (Rocas Exporter) and a pharmaceutical third-party manufacturer operating businesses in Venezuela, Saudi Arabia, Cambodia, Oman, Brazil, Lebanon, Chile, Peru, Cuba, and Fiji. Hospital supply.