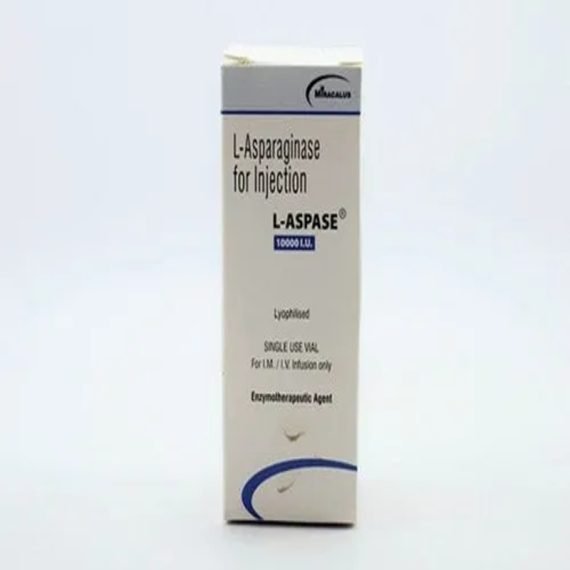 Lagicad – Asparaginase Injection
Cadila Pharmaceuticals Ltd
Description
ASPARAGINASE (LAZICAD) INJECTION – TREATMENT FOR BLOOD CANCER
Some types of white blood cell cancer are treated with Lagicad 10000IU Injection (leukemia). Depending on what your doctor decides, it might also be applied to the treatment of other cancers. It can be used alone or occasionally used in combination with other medications as part of chemotherapy.
The doctor will inject you with Lagicad 10000IU Injection, however for the best results, try to take it at the same time every day. Your doctor will determine the appropriate dosage and frequency of administration for you.
Fedelty Health Care is an Asparaginase wholesaler, Pharmaceutical Cargo Bulk Exporter & Hospital Supply.
USES OF ASPARAGINASE (LAZICAD) INJECTION
Blood cancer (Acute lymphocytic leukemia)
WORKS OF ASPARAGINASE (LAZICAD) INJECTION
Asparaginase is a member of the antineoplastic agent drug class. An enzyme called asparaginase prevents the growth of cancer cells by interfering with the natural mechanisms required for their development.
SIDE EFFECTS OF ASPARAGINASE (LAZICAD) INJECTION
Breathlessness
Rash
Vomiting
Angioedema (swelling of deeper layers of skin)
Edema (swelling)
Nausea
Fatigue
Increased liver enzymes
Diarrhea
Decreased blood pressure
Flushing (sense of warmth in the face, ears, neck, and trunk)
Low albumin level in blood
The increased glucose level in blood
Hives
WARNING & PRECAUTIONS
Most of the time, Lagicad 10000IU Injection has no effect on your ability to drive.
Use of Lagicad 10000IU Injection during pregnancy may be dangerous. Despite the paucity of human studies, studies on animals have indicated negative consequences on the developing fetus. Before giving you a prescription, your doctor will consider the advantages and any possible hazards. Please speak with your physician.
Fedelty Health Care is an Asparaginase third-party manufacturer, bulk pharma exporter, and pharmaceutical contract manufacturer operating businesses in Venezuela, Saudi Arabia, Cambodia, Oman, Brazil, Lebanon, Chile, Peru, Cuba, and Fiji. Other services they provide are hospital supply, government supply, named patient supply, cold chain supply, and drop shipping.