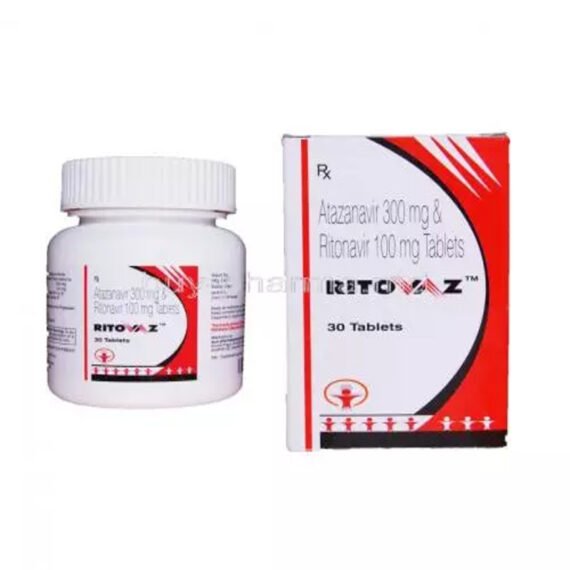 Ritovaz – Atazanavir & Ritonavir Tablet
Description
ATAZANAVIR & RITONAVIR (RITOVAZ) TABLET – TREATMENT FOR HIV (HUMAN IMMUNODEFICIENCY VIRUS) INFECTION
The Ritovaz Tablet contains several antiretroviral drugs. HIV (human immunodeficiency virus) infection is treated with it. It increases immunity to combat HIV in order to manage or treat AIDS (acquired immunodeficiency syndrome).
Ritovaz Tablet should be taken as prescribed by your doctor, both in terms of dosage and timeframe. Even if you feel better, do not miss any doses and complete the entire course of treatment.
USES OF ATAZANAVIR & RITONAVIR (RITOVAZ) TABLET
Hiv (Human Immunodeficiency Virus) Infection
WORKS OF ATAZANAVIR & RITONAVIR (RITOVAZ) TABLET
A drug used to treat HIV is called Ritovaz Tablet. It functions by interfering with a proteinase that HIV-infected cells need to produce new viruses. This prevents the development of new viruses.
SIDE EFFECTS OF ATAZANAVIR & RITONAVIR (RITOVAZ) TABLET
Taste change
Headache
Nausea
Diarrhea
Paresthesia (tingling or pricking sensation)
Dizziness
Cough
Abdominal pain
Throat pain
Peripheral neuropathy (tingling and numbness of feet and hands)
WARNING & PRECAUTIONS
Ritovaz Tablet may make you feel drowsy and lightheaded, less alert, or have an impact on your vision. If you experience these symptoms, don't drive.
There is no information available on using Ritovaz Tablet while pregnant. Please speak with your physician.
Fedelty Health Care is an Atazanavir & Ritonavir third-party manufacturer, bulk pharma exporter, and pharmaceutical contract manufacturer operating businesses in Venezuela, Saudi Arabia, Cambodia, Oman, Brazil, Lebanon, Chile, Peru, Cuba, and Fiji. Other services they provide are hospital supply, government supply, named patient supply, cold chain supply, and drop shipping.