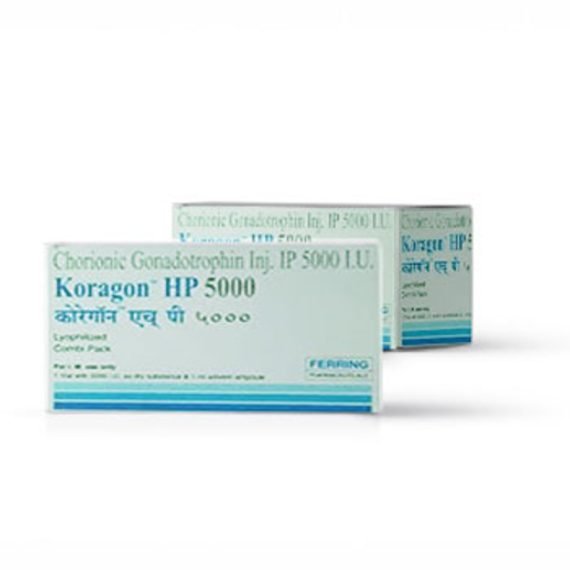 Koragon HP – Chorionic Gonadotropin Injection
Description
CHORIONIC GONADOTROPIN (KORAGON HP) INJECTION – TREATMENT FOR FEMALE INFERTILITY
Women with infertility are treated with Koragon HP 5000IU Injection. It is beneficial for treating male hypogonadism as well (delayed puberty, and low sperm count). In women, it causes the ovary to release eggs, while in men, it raises the level of testosterone.
Under the direction of a doctor, Koragon HP 5000IU Injection is administered as an injection. Always heed your doctor's recommendations, since they will determine when the injection should be administered. Depending on what you are using it for, you should adjust the dosage and frequency.
Fedelty Health Care is a Chorionic Gonadotropin wholesaler, Pharmaceutical Cargo Bulk Exporter & Hospital Supply.
USES OF CHORIONIC GONADOTROPIN (KORAGON HP) INJECTION
Treatment of Female infertility
Treatment of Male hypogonadism
WORKS OF CHORIONIC GONADOTROPIN (KORAGON HP) INJECTION
The sex hormone Koragon HP 5000IU Injection. It facilitates the release of eggs from the ovary in females. It helps treat diseases including delayed puberty and low sperm count in men by increasing the synthesis of testosterone.
WARNING & PRECAUTIONS
Typically, using Koragon HP 5000IU Injection won't impair your ability to drive.
It might not be safe to take Koragon HP 5000IU Injection while pregnant. Despite the paucity of human studies, studies on animals have indicated negative consequences on the developing fetus. Before giving you a prescription, your doctor will consider the advantages and any possible hazards. Please speak with your physician.
Fedelty Health Care is a  Chorionic Gonadotropin third-party manufacturer, bulk pharma exporter, and pharmaceutical contract manufacturer operating businesses in Venezuela, Saudi Arabia, Cambodia, Oman, Brazil, Lebanon, Chile, Peru, Cuba, and Fiji. Other services they provide are hospital supply, government supply, named patient supply, cold chain supply, and drop shipping.