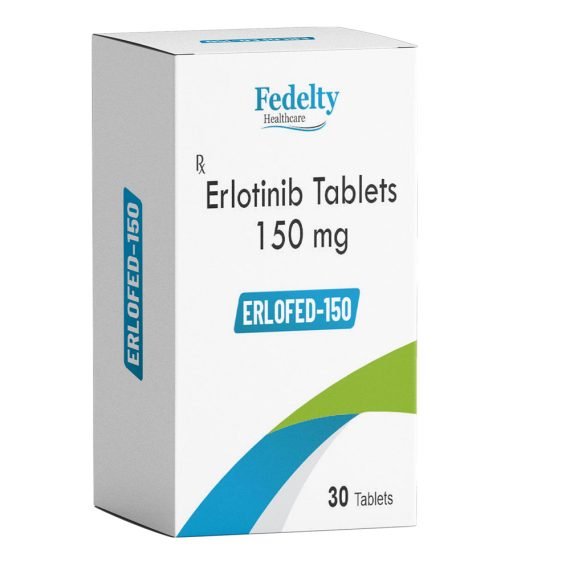 Erlofed – Erlotinib 150 Tablet
Description
ERLOTINIB (ERLOFED) TABLET – TREATMENT FOR MULTIPLE CANCER
Pancreatic and non-small cell lung cancer are both treated with Erlofed 150 Tablet.
Erlofed 150 Tablets should be consumed on an empty stomach, one hour prior to, or two hours following a meal. As long as your doctor recommends it, you should keep taking it. Depending on your needs and how you respond to treatment, the length of treatment varies.
USES OF ERLOTINIB (ERLOFED) TABLET
Non-small cell lung cancer
Pancreatic cancer
WORKS OF ERLOTINIB (ERLOFED) TABLET
Erlofed 150 Tablet is a cancer preventative drug. Lung cancer cells have EGFRs expressed on their surfaces, which control how quickly they develop. This medication inhibits the EGFR-mediated cancer signaling pathways by binding to the chemical messenger EGFR. This is how it prevents the cancer cells from proliferating further.
SIDE EFFECTS OF ERLOTINIB (ERLOFED) TABLET
Abdominal pain
Bone pain
Breathlessness
Constipation
Cough
Diarrhea
Fatigue
Fever
Infection
Muscle pain
Nausea
Rash
Stomatitis (Inflammation of the mouth)
Vomiting
Weight loss
WARNING & PRECAUTIONS
The ability to drive may be affected by Erlofed 150 Tablet, however, this is unknown. If you encounter any symptoms that impair your focus or reaction time, avoid operating a vehicle.
Patients with kidney conditions can use Erlofed 150 Tablets without risk. It is not advised to change the dosage of Erlofed 150 tablets.
Patients with severe kidney problems are not advised to use this medication.
Patients with liver conditions should use Erlofed 150 Tablets with caution. There may need to be a dosage change for Erlofed 150 Tablet. Please speak with your physician.
On the use of Erlofed 150 Tablet in these patients, there is not much information available. In patients with mild to severe liver disease, there is no need to change the dosage.