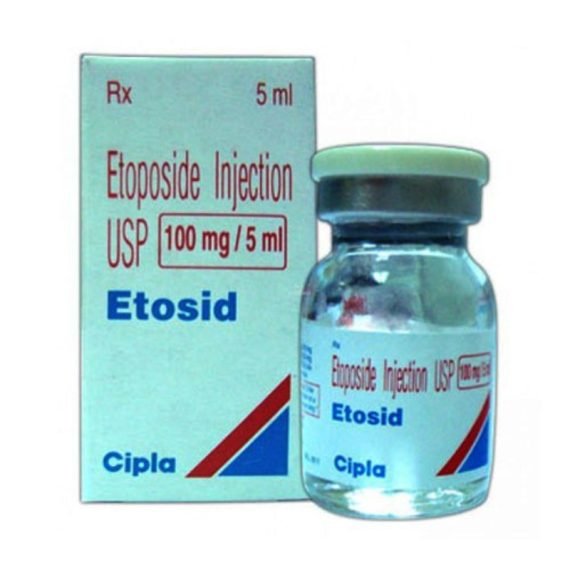 Etosid – Etoposide 100mg Injection
Description
ETOPOSIDE (ETOSID) INJECTION – TREATMENT FOR MULTIPLE CANCER
Etoposide or Etosid 100mg Injections are used to treat lung and testicular cancers. It is also sometimes used to treat other types of cancer in both men and women. It can be used alone or in conjunction with other medications as part of a combination chemotherapy regimen.
Small cell lung cancer is a type of lung cancer that grows quickly and is commonly caused by smoking. It begins with small tumors in the lungs but eventually spreads to other parts of the body. Etosid 100mg Injection is used to treat these types of cancer and can be given alone or in combination with other medications. It is a potent and highly toxic medication, and you should discuss the risks and benefits with your doctor. You should avoid drinking alcohol during this treatment and drink plenty of water to stay hydrated.
Etosid 100mg Injections are administered as a slow infusion into veins under the supervision of a healthcare professional and should not be self-administered. Your doctor will determine the appropriate dosage and frequency of administration. This will vary depending on what you are being treated for and may change from time to time. You must take it exactly as prescribed by your doctor.
Fedelty Health Care is an Etoposide wholesaler, Pharmaceutical Cargo Bulk Exporter & Hospital Supply.
USES OF ETOPOSIDE (ETOSID) 100MG INJECTION
Lung cancer with small cells
Cancer of the testicles
WORKS OF ETOPOSIDE (ETOSID) 100MG INJECTION 
Etosid 100mg Injection is an anti-cancer medication. It works by inhibiting the activity of an enzyme (topoisomerase II) involved in the DNA multiplication of cancer cells. This slows the growth of cancer cells and eventually kills them.
Fedelty Health Care is India's certified Etoposide Bulk Pharma Exporter, Cargo Bulk Supplier, and pharmaceutical wholesaler.
SIDE EFFECTS OF ETOPOSIDE (ETOSID) 100MG INJECTION
The majority of side effects do not necessitate medical attention and will go away as your body adjusts to the medication. Consult your doctor if they persist or if you are concerned.
Liver damage
Nausea
Vomiting
Diarrhea
Rash
Anemia
Decreased white blood cell count
Hair loss
WARNING & PRECAUTIONS
It is unknown whether drinking alcohol while taking Etosid 100mg Injection is safe. Please seek medical advice.
In patients with liver problems, Etosid 100mg Injection should be used with caution. Etosid 100mg Injection dosage might need to be adjusted. Please get advice from a physician.
Etoposide or Etosid 100mg Injection is a drug that is used to treat a variety of ailments. Injections should not be used during pregnancy because there is clear evidence that they pose a risk to the unborn child. However, if the advantages outweigh the hazards, the doctor may prescribe it in life-threatening conditions. Please get advice from a physician.
Fedelty Health Care is an Etoposide bulk pharma exporter (Etosid Exporter) and pharmaceutical third-party manufacturer operating businesses in Venezuela, Saudi Arabia, Cambodia, Oman, Brazil, Lebanon, Chile, Peru, Cuba, and Fiji. Hospital supply.