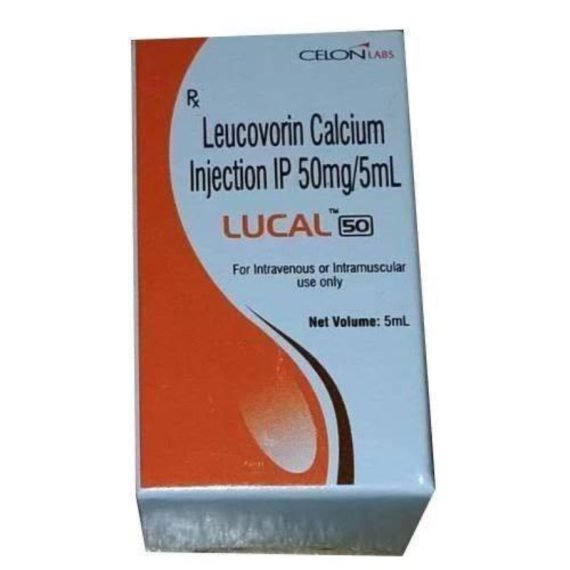 Lucal – Leucovorin Calcium Injection
Description
LEUCOVORIN CALCIUM (LUCAL) INJECTION – TREATMENT FOR CANCER
Leucovorin Calcium or Lucal 50mg Methotrexate injection is used to avoid the negative effects of the drug (anticancer medicine). It is also used to treat methotrexate overdose.
Lucal 50mg Injection protects body cells from the damaging effects of methotrexate, an anti-cancer medication. It is a type of vitamin B that is administered 24 hours after the administration of methotrexate. This ensures that methotrexate has achieved its anti-cancer effects, as well as the prevention of other side effects such as anemia.
Lucal 50mg Under the supervision of a doctor, injection is given as a slow injection into veins. Your doctor will determine the appropriate dosage and frequency of administration. This will vary depending on what you are being treated for and may change from time to time. You must take it exactly as prescribed by your doctor. If taken incorrectly or in excess, it can have serious side effects.
Fedelty Health Care is a Leucovorin Calcium wholesaler, Pharmaceutical Cargo Bulk Exporter & Hospital Supply.
USES OF LEUCOVORIN CALCIUM (LUCAL) INJECTION
Prevention of Harmful effects of methotrexate
WORKS OF LEUCOVORIN CALCIUM (LUCAL) INJECTION
Lucal 50mg Injection is a type of vitamin B. It works by shielding healthy cells from the toxicity of methotrexate (an anticancer medication) while allowing it to enter and kill cancer cells.
Fedelty Health Care is India's certified Leucovorin Calcium Bulk Pharma Exporter, Cargo Bulk Supplier, and pharmaceutical wholesaler.
SIDE EFFECTS OF LEUCOVORIN CALCIUM (LUCAL) INJECTION
The majority of side effects do not necessitate medical attention and will go away as your body adjusts to the medication. Consult your doctor if they persist or if you are concerned.
Reactions at the injection site (pain, swelling, redness)
WARNING & PRECAUTIONS
Lucal 50mg In most cases, injection does not impair your ability to drive.
There is little data on the use of Lucal 50mg Injection in patients with kidney disease. Please consult your physician.
Lucal 50mg Using injections during pregnancy may be dangerous. Although there have been few human studies, animal studies have shown that it is harmful to the developing baby. Before prescribing it to you, your doctor will weigh the benefits against any potential risks. Please consult your doctor.
Fedelty Health Care is a Leucovorin Calcium bulk pharma exporter (Lucal Exporter) and a pharmaceutical third-party manufacturer operating businesses in Venezuela, Saudi Arabia, Cambodia, Oman, Brazil, Lebanon, Chile, Peru, Cuba, and Fiji. Hospital supply.