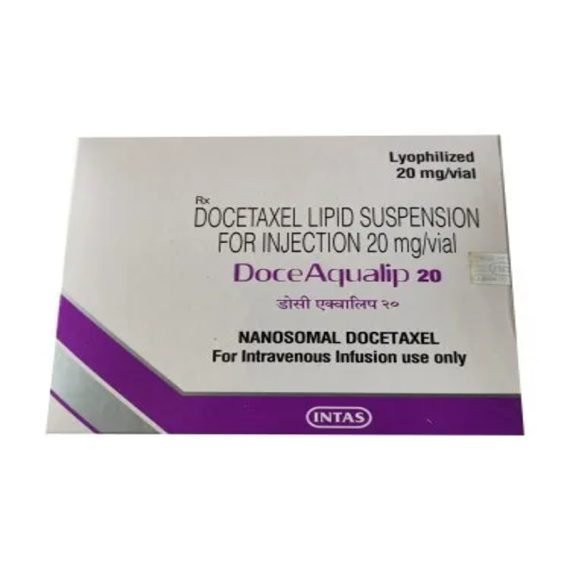 Doceaqualip – Lyophilized Injection
Intas Pharmaceuticals Ltd
Description
LYOPHILIZED (DOCEQUALIP) INJECTION – TREATMENT FOR MULTIPLE CANCER
Breast cancer, non-small cell lung cancer, prostate cancer, and head and neck malignancies are all treated with the anti-cancer drug Doceaqualip injection.
A licensed medical expert administers Doceaqualip Injection through injection. Your doctor will determine the appropriate dosage and frequency of administration for you. This is based on the condition you are being treated for and is subject to change.
USES OF LYOPHILIZED (DOCEQUALIP) INJECTION
Breast cancer
Non-small cell lung cancer
Prostate cancer
Cancer of the head and neck
WORKS OF LYOPHILIZED (DOCEQUALIP) INJECTION
An anticancer drug is Doceaqualip Injection. It functions by interfering with the microtubule networks that support cancer cells' ability to divide and grow. As a result, cancer cells finally perish and their proliferation is slowed.
SIDE EFFECTS OF LYOPHILIZED (DOCEQUALIP) INJECTION
Breathlessness
Constipation
Edema (swelling)
Infection
Loss of appetite
Muscle pain
Nail disorder
Pain
Weakness
WARNING & PRECAUTIONS
The impact of Doceaqualip Injection on driving abilities is unknown. If you encounter any symptoms that impair your focus or reaction time, avoid operating a vehicle.
Doceaqualip Injection should not be used during pregnancy because there is clear evidence that it poses harm to the unborn child. However, if the advantages outweigh the possible risks, a doctor might very rarely recommend it in specific life-threatening circumstances. Please speak with your physician.
Fedelty Health Care is a  Lyophilized third-party manufacturer, bulk pharma exporter, and pharmaceutical contract manufacturer operating businesses in Venezuela, Saudi Arabia, Cambodia, Oman, Brazil, Lebanon, Chile, Peru, Cuba, and Fiji. Other services they provide are hospital supply, government supply, named patient supply, cold chain supply, and drop shipping.