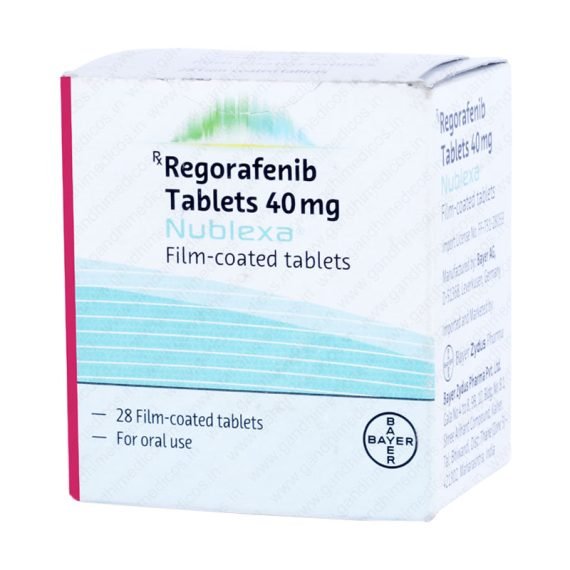 Nublexa – Regorafenib 40mg Tablet
Description
Regorafenib (Nublexa) Tablet – Treatment for Colon Cancer
Regorafenib or Nublexa Tablet is a Tyrosine Kinase Inhibitor that is used to treat colon and rectal cancers. Regorafenib should be taken with meals, and it's best if you take it at the same time every day. Your doctor will determine the appropriate dose and frequency of administration. This can vary depending on the reason you're being treated and may alter over time. You should follow your doctor's instructions in the letter. It can have potentially dangerous negative effects if taken incorrectly or in excess. You may not see or feel the advantages for several weeks or months, but do not stop taking it until your doctor advises you to. Many other drugs can interact with or be impacted by this one, so tell your doctor about all of your prescriptions. This medication should not be used during pregnancy or nursing. It is critical for both males and females to utilize effective contraception throughout therapy to avoid conception.
Regorafenib is manufactured by Bayer, which is a global pharmaceutical and life sciences corporation headquartered in Germany. It is one of the world's major pharmaceutical firms.
Fedelty Health Care is a Regorafenib wholesaler, Pharmaceutical Cargo Bulk Exporter & Hospital Supply.
USES OF REGORAFENIB (NUBLEXA) 40MG TABLET
Cancer of colon and rectum
 HOW REGORAFENIB (NUBLEXA) 40MG TABLET WORKS
Regorafenib is a cancer-fighting drug. It works by preventing the aberrant protein from causing cancer cells to grow. This aids in the prevention or slowing of cancer cell spread.
Fedelty Health Care is a certified Regorafenib Bulk Pharma Exporter, Cargo Bulk Supplier, and pharmaceutical wholesaler in India.
DIRECTIONS FOR USE
Follow your doctor's instructions on the dosage and duration of this medication. Take it all in at once. It should not be chewed, crushed, or broken. Regorafenib should be consumed with meals.
SIDE EFFECTS OF REGORAFENIB (NUBLEXA) 40MG TABLET
Infection
Low blood platelets
Anemia (low number of red blood cells)
Rash
Weakness
Vomiting
Pain
Nausea
Fever
Diarrhea
High blood pressure
Decreased appetite
Mucosal inflammation
Stomatitis (Inflammation of the mouth)
Increased liver enzymes
Weight loss
Voice change
Bilirubin in urine
 

WARNING & PRECAUTIONS
Patients with renal dysfunction can safely use Regorafenib. There is no need to alter the dose of Regorafenib. However, data on the usage of Nublexa Tablet in individuals with severe renal disease is inadequate.
In individuals with liver problems, Regorafenib should be taken with care. Regorafenib or Nublexa Tablet dosage may need to be adjusted. Please seek medical advice. While using this medication, you should get your liver function tested on a regular basis. Regorafenib should not be used by people who have serious liver disease.
Regorafenib is harmful to use during pregnancy since there is solid evidence of risk to the developing infant. However, in some life-threatening instances where the advantages outweigh the hazards, the doctor may prescribe it. Please seek medical advice.
Using Regorafenib during nursing is generally not a good idea. The medicine may transfer into breastmilk and damage the newborn, according to limited human research.
Fedelty Health Care is a Regorafenib bulk pharma exporter (Nublexa Exporter) and pharmaceutical third-party manufacturer operating businesses in Venezuela, Saudi Arabia, Cambodia, Oman, Brazil, Lebanon, Chile, Peru, Cuba, and Fiji. Other services they provide are hospital supply, government supply, named patient supply, cold chain supply, and drop shipping.