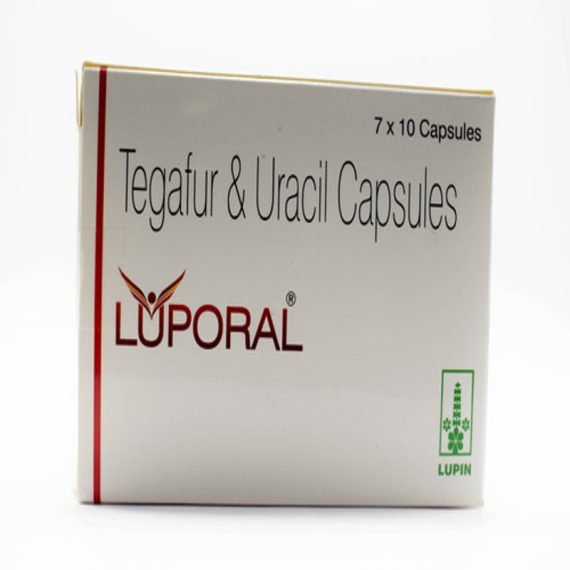 Luporal – Tegafur Capsule
Description
TEGAFUR (LUPORAL) CAPSULE – TREATMENT FOR CANCER OF THE COLON AND RECTUM
A prescription drug called Luporal Capsule is used to treat colon and rectal cancer. It is a mixture of two anticancer medications. Limiting the development and division of cancer cells, it aids in the removal of the tumor.
You can take a Luporal capsule with or without food. It should be taken for the amount of time and in the dosage that your doctor has advised. It is suggested to take this medication at a set time each day.
Fedelty Health Care is a Tegafur wholesaler, Pharmaceutical Cargo Bulk Exporter & Hospital Supply.
USES OF FOLLITROPINE ALPHA (GONALF) INJECTION
Cancer of the colon and rectum
WORKS OF FOLLITROPINE ALPHA (GONALF) INJECTION
Tegafur and Uracil, two medications used to treat cancer, are combined to create the Luporal Capsule. They function by swapping the building blocks of cancer cells' DNA and RNA, preventing the formation of those molecules. This prevents the cancer cells from growing and multiplying.
SIDE EFFECTS OF FOLLITROPINE ALPHA (GONALF) INJECTION
Nausea
Vomiting
Tiredness
Mouth sore
Sore tongue
Stomach pain
Diarrhea
Loss of appetite
Decreased blood cells (red cells, white cells, and platelets)
WARNING & PRECAUTIONS
The negative effects of Luporal capsule may impair your ability to drive.
You might experience fatigue, nausea, or impaired vision after taking a Luporal capsule, which could impair your ability to drive.
It is extremely dangerous to take Luporal capsules while pregnant. Consult your doctor before taking any medications, as research on animals and pregnant women has demonstrated clear negative effects on the developing fetus.
Fedelty Health Care is a  Tegafur third-party manufacturer, bulk pharma exporter, and pharmaceutical contract manufacturer operating businesses in Venezuela, Saudi Arabia, Cambodia, Oman, Brazil, Lebanon, Chile, Peru, Cuba, and Fiji. Other services they provide are hospital supply, government supply, named patient supply, cold chain supply, and drop shipping.