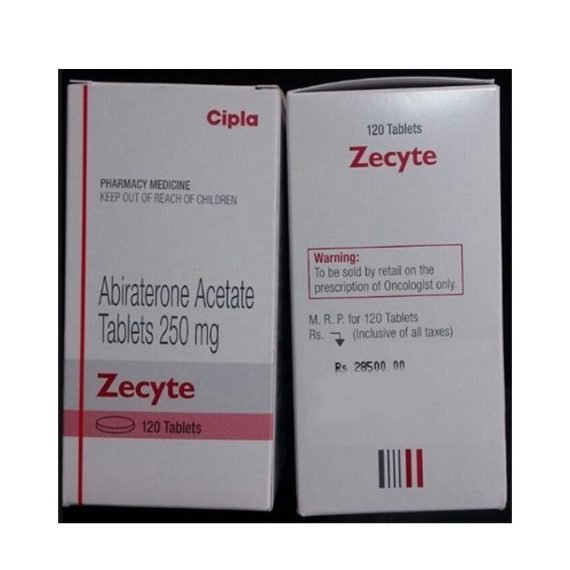 Zycyte – Abiraterone Acetate Tablet
Description
ABIRATERONE ACETATE (ZYCYTE) TABLET – TREATMENT FOR PROSTATE CANCER
Zycyte Tablet is prescribed for the treatment of prostate cancer. It may also be used to treat other diseases that the doctor determines. It is occasionally used in conjunction with other medications as part of a combination chemotherapy regimen.
In males, the prostate gland is a small walnut-sized gland that generates seminal fluid, which nourishes and transports sperm. The most common symptom of prostate cancer is trouble urinating, however, no symptoms are always present.
It is not recommended to take Zycyte Tablet on an empty stomach. It may induce negative effects if taken with food. Your doctor will determine the appropriate dose and frequency of administration. This will vary depending on what you are being treated for and may alter over time.
USES OF ABIRATERONE ACETATE (ZYCYTE) TABLET
WORKS OF ABIRATERONE ACETATE (ZYCYTE) TABLET
Zycyte Tablet is a cancer-fighting drug. It works by preventing the synthesis of androgens (male hormones) in men. This is accomplished by blocking an enzyme (CYP17) that is responsible for androgen production. This is how it delays the progression of prostate cancer.
SIDE EFFECTS OF ABIRATERONE ACETATE (ZYCYTE) TABLET
The majority of adverse effects do not necessitate medical treatment and will go away as your body adjusts to the medication. Consult your doctor if they persist or if you are concerned.
Edema (swelling)
Vomiting
Decreased potassium level in the blood
Decreased white blood cell count
Fatigue
Increased liver enzymes
Anemia (low number of red blood cells)
Urinary tract infection
Diarrhea
High blood pressure
Cough
Hypercholesterolemia (high cholesterol)
Joint swelling
WARNING & PRECAUTIONS
Zycyte Tablet normally has no effect on your ability to drive.
Patients with kidney conditions should not use Zycyte Tablet. There is no need to alter the dose of Zycyte Tablet.
Because of the scarcity of data, people with severe kidney illness should use Zytiga 250mg Tablet with caution.
In patients with liver problems, Zycyte tablets should be used with caution. Zycyte Tablet dosage may need to be adjusted. Please consult your physician.
Using Zycyte tablets during pregnancy is extremely dangerous. Seek the counsel of your doctor, as research on pregnant women and