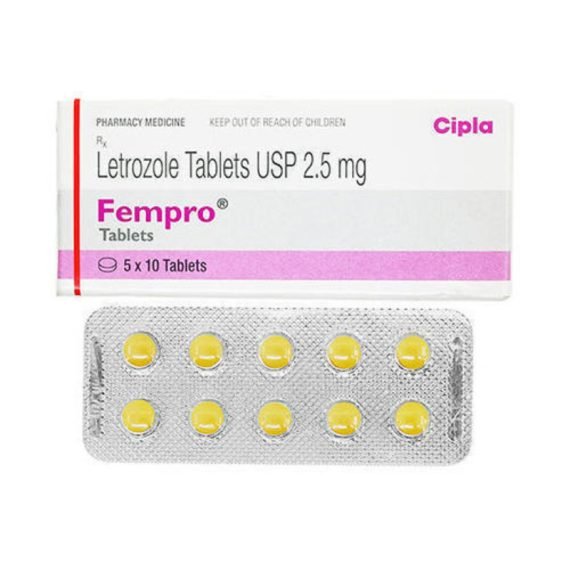 Fempro – Letrozole 2.5mg Tablet
Description
LETROZOLE (FEMPRO) TABLET – TREATMENT FOR BREAST CANCER
Letrozole or Fempro Tablet aids in the treatment of postmenopausal women with breast cancer. It can be used alone or in conjunction with other treatments like surgery or radiation. It can also be used in advanced breast cancer patients to prevent the tumor from spreading to other parts of the body.
Fempro Tablet can also help with infertility treatment. It can be taken with or without food, but it is best taken at the same time each day. The dose and frequency of administration are determined by the purpose for which you are taking it. Your doctor will determine how much treatment you require to alleviate your symptoms. You should take this medication for the full duration of the prescription.
Fempro Tablet treats breast cancer symptoms such as breast lumps, bloody discharge from the nipple, and changes in the shape or texture of the breast. It works by modifying the production of hormones in the body that are required for the growth and spread of breast cancer. It may also interact with other hormones or have a direct effect on cancer growth to halt its progression.
Fedelty Health Care is a Letrozole wholesaler, Pharmaceutical Cargo Bulk Exporter & Hospital Supply.
USES OF LETROZOLE (FEMPRO) 2.5MG TABLET
Treatment of Breast cancer
Treatment of Infertility due to anovulation
WORKS OF LETROZOLE (FEMPRO) 2.5MG TABLET 
Fempro Tablet inhibits aromatase. It reduces the amount of estrogen (natural female hormone) produced in the body. Some breast cancers that require estrogen to grow can be slowed or stopped by a decrease in estrogen. Furthermore, it can help with infertility by increasing the release of certain hormones that stimulate the release of eggs from the ovaries.
Fedelty Health Care is India's certified Letrozole Bulk Pharma Exporter, Cargo Bulk Supplier, and pharmaceutical wholesaler.
SIDE EFFECTS OF LETROZOLE (FEMPRO) 2.5MG TABLET
The majority of side effects do not necessitate medical attention and will go away as your body adjusts to the medication. Consult your doctor if they persist or if you are concerned.
Fatigue
Flashes of heat
Hypercholesterolemia (high cholesterol) (high cholesterol)
Increased perspiration
WARNING & PRECAUTIONS
Consuming alcohol while taking Fempro Tablet has no negative side effects.
Using Fempro Tablet during pregnancy is extremely dangerous. Seek the advice of your doctor, as studies on pregnant women and animals have revealed significant harm to the developing baby.
In patients with kidney disease, Fempro Tablet is safe to use. There is no need to adjust the dose of Fempro Tablet.
There is, however, little data on the use of this medication in patients with end-stage kidney disease. Please consult with your physician.
Fedelty Health Care is an Letrozole bulk pharma exporter (Fempro Exporter) and pharmaceutical third-party manufacturer operating businesses in Venezuela, Saudi Arabia, Cambodia, Oman, Brazil, Lebanon, Chile, Peru, Cuba, and Fiji. Hospital supply.