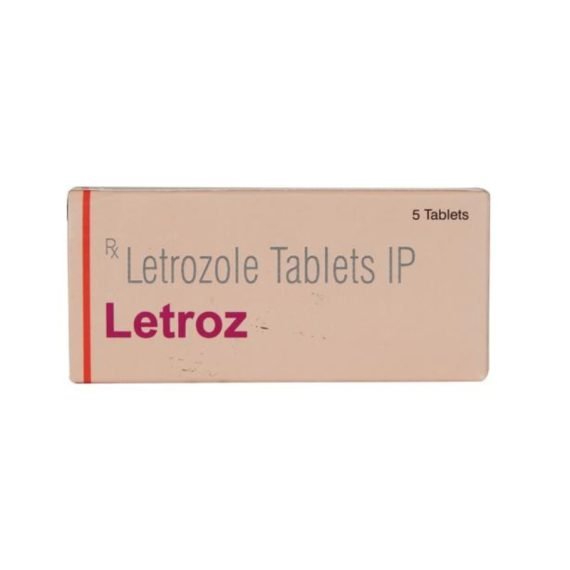 Letroz – Letrozole 2.5mg Tablet
Description
LETROZOLE (LETROZ) TABLET – TREATMENT FOR BREAST CANCER
Letrozole or Letroz Tablet is used to treat postmenopausal women with breast cancer. It can be used alone or in combination with other therapies like surgery or radiation. It can also be used to block the tumour from spreading to other parts of the body in patients with advanced breast cancer.
Letroz Tablet can also be used to help with infertility. It can be taken with or without food, although it is best taken at the same time each day. What you take it for determines the dose and frequency. Your doctor will determine how much improvement you require.
Letroz Tablet treats breast cancer symptoms such as breast masses, bloody nipple discharge, and changes in the form or texture of the breast. It works by affecting the production of hormones in the body that are necessary for breast cancer growth and spread. It could potentially interact with other hormones or have a direct effect on cancer, slowing its progression.
Fedelty Health Care is a Letrozole wholesaler, Pharmaceutical Cargo Bulk Exporter & Hospital Supply.
USES OF LETROZOLE (LETROZ) TABLET
Treatment of Breast cancer
Treatment of Infertility due to anovulation
WORKS OF LETROZOLE (LETROZ) TABLET
Letroz Tablet is an anti-aromatase drug. It works by lowering the body's production of oestrogen (a natural feminine hormone). Some breast cancers that require oestrogen to grow can be slowed or stopped by lowering oestrogen levels. It can also help with infertility by stimulating the release of eggs from the ovaries by increasing the production of specific hormones.
Fedelty Health Care is a Letrozole wholesaler, Pharmaceutical Cargo Bulk Exporter & Hospital Supply.
SIDE EFFECTS OF LETROZOLE (LETROZ) TABLET
The majority of adverse effects do not necessitate medical treatment and will go away as your body adjusts to the medication. Consult your doctor if they persist or if you are concerned.
Fatigue
Hypercholesterolemia (high cholesterol)
Increased sweating
Hot flashes
WARNING & PRECAUTIONS
Letroz Tablet can make you sleepy and disoriented, as well as reduce your alertness. If these symptoms appear, do not drive.
Patients with kidney dysfunction can safely take Letroz Tablet. There is no need to modify the dose of Letroz Tablet.
However, data on the usage of this drug in patients with end-stage kidney disease is lacking. Please consult your physician.
In patients with liver problems, Letroz Tablet should be used with caution. Letroz Tablet dosage may need to be adjusted. Please seek medical advice.
Fedelty Health Care is a  Letrozole third-party manufacturer, bulk pharma exporter, and pharmaceutical contract manufacturer operating businesses in Venezuela, Saudi Arabia, Cambodia, Oman, Brazil, Lebanon, Chile, Peru, Cuba, and Fiji. Other services they provide are hospital supply, government supply, named patient supply, cold chain supply, and drop shipping.